St. Croix Riverway Ornament displayed at White House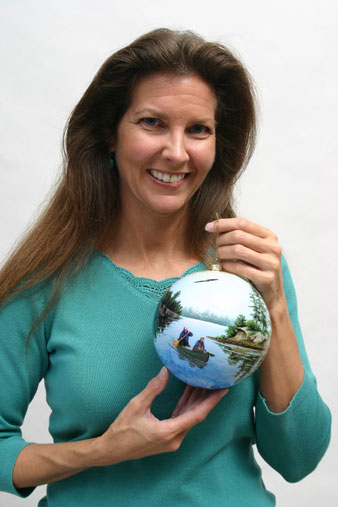 Rita Morgan
News Release Date:
November 30, 2007
Contact:
Jean_Van_Tatenhove@nps.gov
First Lady Laura Bush unveiled the official White House Christmas Tree this past week featuring special ornaments representing America's 391 national park areas, including St. Croix National Scenic Riverway.  The 2007 Christmas tree theme, "Holiday in the National Parks," highlights the upcoming 100th anniversary of the National Park Service, the organization that manages the diverse natural and cultural heritage sites that make up the National Park System.
The White House invited national park areas to enlist the talents of local artists to decorate ornaments depicting unique aspects of the individual parks. "St. Croix National Scenic Riverway is lucky to have a talented former employee, artist Rita Morgan, who is also very knowledgeable of the park resources and was willing to create the artwork," said Superintendent Tom Bradley. "Rita worked as a park ranger on the Riverway for five summers and the image she painted of canoeists paddling peaceful waters represents so much that can be found here."
A Wisconsin native, Rita Morgan graduated from high school in Elkhart Lake before earning a degree in Natural Resources Management-Environmental Education from the University of Wisconsin-Stevens Point in 1989. While working for the National Park Service, Morgan created several pieces of art including a large mural displayed at the Namekagon River Visitor Center in Trego, Wisconsin, and a number of temporary exhibits. She is currently lives near Denver, Colorado, and can be contacted via the St. Croix River Visitor Center at 715-483-2274.
All artists who created these special ornaments were invited to attend the unveiling at the White House hosted by the Laura Bush. Morgan was "about twenty feet in front of Mrs. Bush" when the First Lady announced the National Park holiday theme as part of her speech. After the holidays the ornaments will become part of the White House permanent ornament collection housed in the National Archives.
St. Croix National Scenic Riverway preserves, protects and interprets an unrivaled combination of exceptional natural and cultural resources and scenic, aesthetic and recreational values. The Riverway today includes 154 miles of the St. Croix River from Gordon, Wisconsin to its confluence with the Mississippi River, and the entire 98 miles of its largest tributary the Namekagon River.
Established as a unit of the National Park system in 1968, when it was designated as one of the first protected waterways by the Wild and Scenic Rivers Act, St. Croix National Scenic Riverway celebrates its 40th anniversary in 2008.