Educators Workshop: Bald Eagles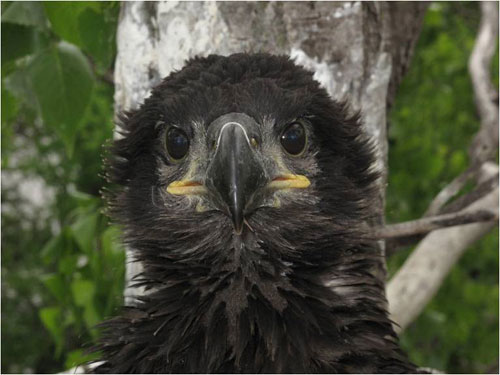 NPS
News Release Date:
January 25, 2010
Contact:
Branda Thwaits
, 715-635-8346, ext 425
Educators Workshop on Saturday, February 6, 2010
Bald Eagle Research:
A Case Study on Involving Students in Scientific Research
How does bald eagle research help us understand the health of the environment? How are high school students involved in this research? Join the National Park Service for an engaging lesson about the role of students in scientific research with a case study about bald eagles. The workshop will be held on Saturday, February 6, from 8:30 a.m. to 12:30 p.m., at the Crex Meadows Visitor Center in Grantsburg, Wisconsin.
The workshop will feature presentations by Bill Route, Director of the National Park Service's Great Lakes Inventory and Monitoring Network; Ted Gostomski, Biologist and Science Writer for the Great Lakes Inventory and Monitoring Network, and Rick Erickson, Bayfield High School Science Teacher.
Through a mix of hands-on exercises, power point presentations, and resource materials, including a class study plan, learn how teachers and their students can become involved in helping scientists monitor our natural resources. Increase your knowledge about bald eagles and hear how students and scientists worked together to find out about contaminants in their system. Learn about the National Park Service's Great Lakes Inventory and Monitoring Network and current monitoring needs.  
This workshop is the fourth in a series of six workshops on the St. Croix National Scenic Riverway that will be held during the 2009-2010 school year. The workshops are designed to increase awareness of the Riverway as a teaching resource by providing experiences that focus on using the Riverway as a learning laboratory. The series of workshops will also include a presentation and lessons on aquatic invasive species, a birdwatching session, and other hands-on activities, field work, observations, resource materials and lesson plan development.
While the workshops were designed for classroom teachers, all educators at any level are welcome to attend. Educators may attend any or all of the workshops in the series.
Space is limited and registration for the workshop is required. Please call Park Ranger Branda Thwaits at (715) 635-8346, ext. 425 to register or for more information. Registration deadline is Tuesday, February 2.
Other workshop dates and topics are:
March 6: invasive threats
April 17: birdwatching
The Crex Meadows Visitor Center is located at 102 East Crex Avenue in Grantsburg, Wisconsin.
  The St. Croix National Scenic Riverway, a unit of the National Park System was established by the Wild and Scenic Rivers Act in 1968; it is one of a group of eight rivers in the country which first received this recognition. For 255 miles, the St. Croix and Namekagon rivers flow through some of the most scenic and least developed country in the Upper Midwest.