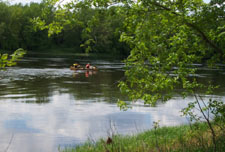 NPS
Prescribed Fire 2005

Travelling on the river, the shoreline vegetation looks green and natural. But some of the plants you see are really unwanted exotics. Here, near Sunrise Landing staff want to get rid of some of these exotic plants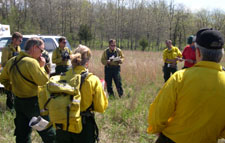 NPS
On May 17th a group gathered to use a new tool against exotic plants within the Riverway. FIRE! But first the day's plans were reviewed and safety issues discussed to insure a successful prescribed burn. The yellow and green clothing being worn are made of specially treated fabric, resistant to fire.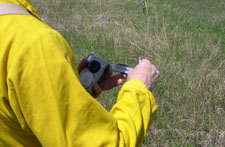 Before a fire can be started, a check of the weather conditions occurs. These checks will continue throughout the fire period. Temperature, humidity and wind, are all in the allowable parameters.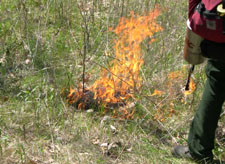 NPS
A tool called a drip torch is used to light the fire. The green vegetation creates smoke and a slow moving fire.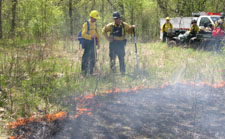 NPS
As the fire begins to burn, it is studied for how hot it is burning and the rate the fire is spreading. The fires today will not burn too hot or too fast, so burning can continue. Additional drip torches are used to help advance the small creep of fire.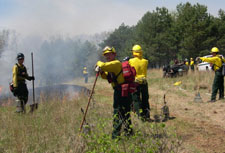 NPS
After the fire is started, wind and a line of mowed, wet grass, keeps the fire moving in the right direction.To make sure the fire does not escape the area "prescribed" for this burn, firefighters are stationed around the edge with rakes to remove vegetation, flappers to suffocate flames, and water to cool the heat..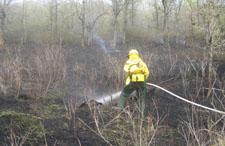 NPS
After the fire has burned through, any remaining smoky hot patches, within six feet of the edge, were doused with water to insure they were completely out. Since the fire did not consume all the fuel, (grasses, twigs, etc.) it is important that the fire can not reignite. Staff were left to patrol the fire even after firefighters were confident it was out..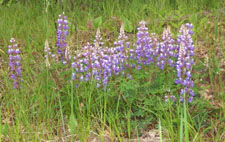 NPS
Within days the blackened area will start showing traces of green. We will wait to see what appears, as the vegetation begins to regrow within the area of the burn. We are hoping prairie plants, such as these lupines will appear in the next few weeks, and that there will be less spotted knapweed and brome growing here next year. We will just wait and see!