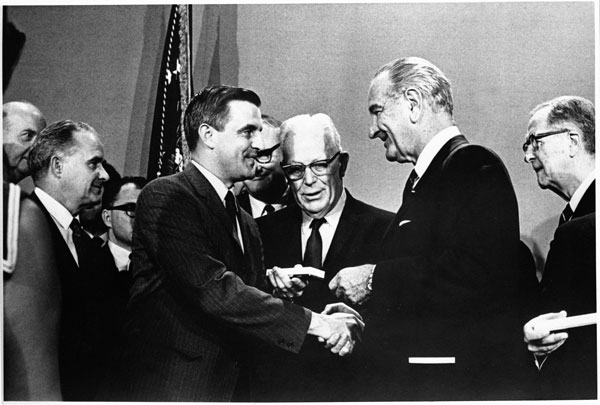 courtesy of Minnesota Historical Society
On October 2, 1968 Senator Walter Mondale of Minnesota was present at a signing ceremony at which President, Lyndon B. Johnson signed several pieces of legislation of importance to the National Park Service. The President signed the Wild & Scenic Rivers Act; The National Trail System Act; the Act to establish North Cascades National Park; and the Act to establish a Redwood National Park. This signing created three National Park Service areas and brought trails such as the Appalachian and more locally the Ice Age and North Country trails into the National Park System.
Senator Mondale had been instrumental in promoting one of the pieces of legislation, titled the Wild and Scenic Rivers Act. For that reason at the conclusion of the ceremony he was presented with one of the pens used during the ceremony. Senator Mondale in turn gave the pen to James Taylor Dunn. Mr. Dunn was a member of the St. Croix River Association and had written the book, St. Croix: Midwest Border River. Mr.Dunn in turn gave the pen to the St. Croix Watershed Research Station along with his cabin and other personal property in late 1998.The Watershed Research Station displayed the pen at the Research Station in Marine on St. Croix, until December of 2012 when the pen was presented to St. Croix National Scenic Riverway . The pen is can be seen at the St. Croix River Visitor Center in St. Croix Falls, Wisconsin.