St. Croix and Namekagon River levels higher than normal for mid-September

Water levels are higher than normal for this time of year due to recent rainfall. Along with below average water temperatures, river users should be alert to the possibility of faster than normal currents. More »
Dinosaurs of the Riverway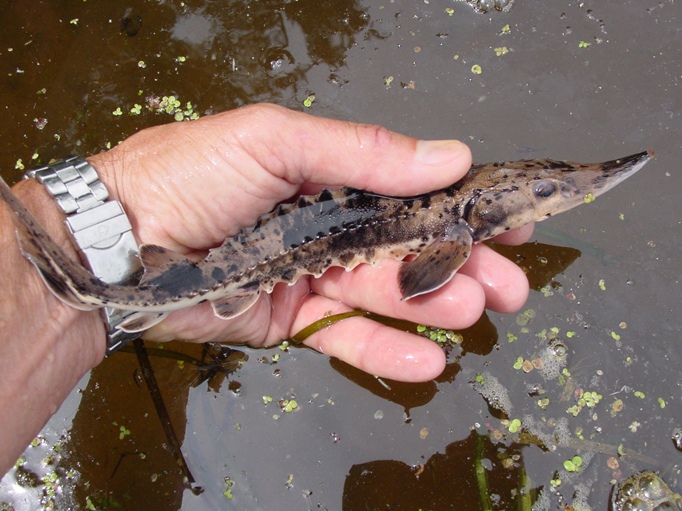 Sometimes startling paddlers with its size and prehistoric look, sturgeon are gentle giants that inhabit both the Namekagon and St. Croix Rivers. A species that can live more than 100 years, measure more than 7 feet in length, and weigh more than 200 pounds, this fish is so important that the word Namekagon is derived from the Ojibwe "Name" or "Nah-muy", which means sturgeon.  
Join us this Saturday to learn more about this ancient fish as Jeff Kampa, Wisconsin DNR Fisheries Scientist, presents the results of years of research. Learn about the current status of the sturgeon population in the Namekagon and upper St. Croix Rivers.  In addition, explore the movement and distribution of sturgeon in the Riverway and the success of current and past stocking efforts in the Namekagon River.
This presentation will be the kick off for our 2013 Speaker Series.  The presentation is free and open to the public.  It will take place at 10:00 a.m. on Saturday, January 19th at the St. Croix River Visitor Center, 401 North Hamilton Street, in St. Croix Falls, Wisconsin.  Reservations are encouraged.  To reserve a seat, call (715) 483-2274.
Post A Comment
Did You Know?

In 1872 3,500 men, 1,600 horses and 250 oxen logged off 35,000 acres cutting some 200 million board feet of logs. "Taylors Falls Reporter". In 1883 the Boom in Stillwater, Minnesota, which collected logs coming down the St. Croix River, reported 1,397,417 logs for 217,045,647 board feet.