Flowage Level Drawdown North Of Taylors Falls/St. Croix Falls

Beginning October 2, Xcel Energy will be lowering the level of the flowage upstream from Taylors Falls/St. Croix Falls by up to 6 feet. This is to allow for repair to flashboards on the dam that were damaged by high water in September.
Dakota and Ojibwe People of the St. Croix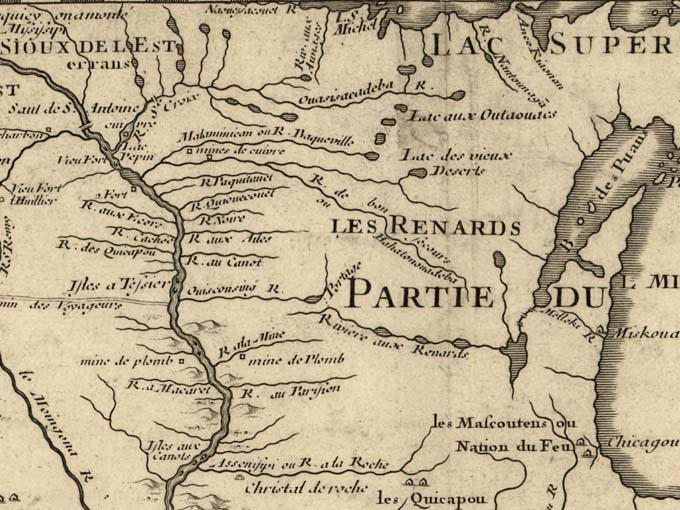 When the first French explorers arrived in the St. Croix region in the late 1600s, they encountered both Dakota and Ojibwe people. We know this from their accounts and surviving French maps. In these early maps, rivers are identified in the Dakota or Ojibwe language, a mix of both languages, or have French names. Studying historical maps helps us to place where the Dakota and Ojibwe were living at the time the map was made.
Bruce White, an author, historian and anthropologist, spoke recently on the Dakota and Ojibwe in the St. Croix Valley as part of our Winter Speaker Series. He shared maps and talked of the meaning of some of the Dakota names. He commented that people tend to focus on the battles between the two groups rather than their interrelationship, as demonstrated by the formation of the Wolf Clan from marriages between Dakota and Ojibwe, the goods they traded, and even an account in 1835 of lacrosse ball playing at the falls of the St. Croix. The Eastern Dakota and Ojibwe shared a similar seasonal lifestyle and both were impacted by the fur trade and treaties. While there are no Dakota communities in the valley today, there are still Ojibwe communities providing a living presence. In heritage, connections and impacts, both the Dakota and Ojibwe are an important part of the St. Croix story that we still have much to learn about.
Post A Comment
Did You Know?

Dragonflies spend most of their life living in the water. Eventually they climb out of the water and grab onto something. Here they will emerge from their old skin like a butterfly emerges from its cocoon and fly away.