Caution - High River Levels and Changing Conditions

The Namekagon and St. Croix Rivers are experiencing late season high water levels due to recent rainfall. River users should prepare for swifter than normal currents, cool water temperatures, and floating or submerged debris in the rivers. More »
Dakota and Ojibwe People of the St. Croix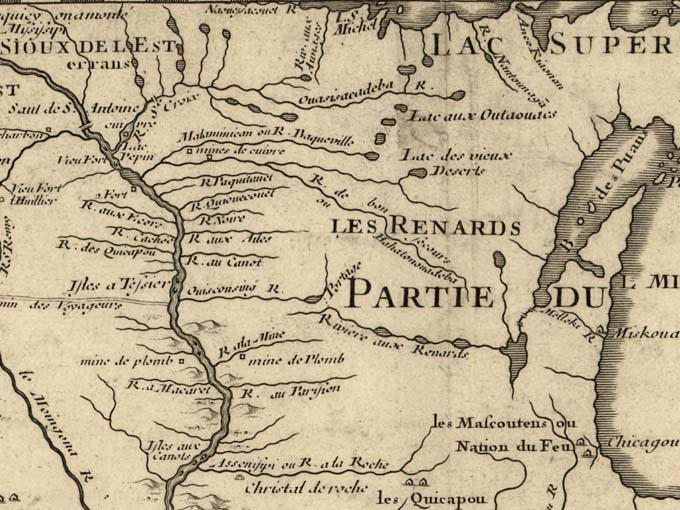 When the first French explorers arrived in the St. Croix region in the late 1600s, they encountered both Dakota and Ojibwe people. We know this from their accounts and surviving French maps. In these early maps, rivers are identified in the Dakota or Ojibwe language, a mix of both languages, or have French names. Studying historical maps helps us to place where the Dakota and Ojibwe were living at the time the map was made.
Bruce White, an author, historian and anthropologist, spoke recently on the Dakota and Ojibwe in the St. Croix Valley as part of our Winter Speaker Series. He shared maps and talked of the meaning of some of the Dakota names. He commented that people tend to focus on the battles between the two groups rather than their interrelationship, as demonstrated by the formation of the Wolf Clan from marriages between Dakota and Ojibwe, the goods they traded, and even an account in 1835 of lacrosse ball playing at the falls of the St. Croix. The Eastern Dakota and Ojibwe shared a similar seasonal lifestyle and both were impacted by the fur trade and treaties. While there are no Dakota communities in the valley today, there are still Ojibwe communities providing a living presence. In heritage, connections and impacts, both the Dakota and Ojibwe are an important part of the St. Croix story that we still have much to learn about.
Post A Comment
Did You Know?

Between 1850 and 1889 log jams occurred at angle rock on the St. Croix River between Minnesota and Wisconsin, where the river bends within a rocky gorge. In 1886 over 150 million board feet of logs jammed creating a tourist attraction. Today St. Croix NSR attracts tourists for its scenic beauty.