Guided Tours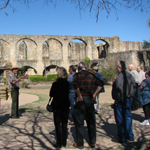 All guided tours are free.

Guided Tours of the Missions
Join a Park Ranger or Docent on a guided tour of one of the four missions. Learn more about the 18th-century Spanish Colonial period -- What was a mission? Who built it? Why was it built here? What happened to them? Discover the importance of this critical part of America's history, which is entrusted to the care of the National Park Service.

These tours last 45-60 minutes. Meet at the visitor center or information center of the mission you want to tour.

10:00 am Mission San José
10:30 am Mission Concepción

11:00 am Mission San José
12:00 pm Mission San José

1:30 pm Mission San Juan (staff permitting)

2:00 pm Mission San José
Mission Espada (staff permitting)
2:30 pm Mission Concepción

3:00 pm Mission San José
Mission San Juan (staff permitting)
3:30 pm Mission Espada (staff permitting)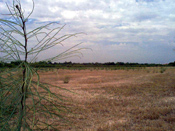 Tour of Rancho de las Cabras

10:00 am, first Saturday of the month, weather permitting. Call 210.932.1001 for more information.
Much of the American cattle industry of the 1800s was built on the legacy of these mission ranches. Learn about the equipment, vocabulary, and folklore of the mission
vaqueros,
while exploring remnants of Espada's ranch,
Rancho de las Cabras
.
Located 30 miles south of San Antonio, meet at Floresville River Park on SH 97 in
Floresville, Texas
, to caravan to the site. From San Antonio, take I-37 south. Exit onto Hwy 181 south to Floresville. Turn right on Hwy 97 west to River Park.

Because the site is undeveloped, it contains brushy areas and fire ants; it is recommended that boots and appropriate clothing be worn.


Did You Know?
that along two of San Antonio's Spanish acequias (irrigation ditches), the San Juan Ditch Water Corp and the Espada Ditch Comp retain water rights first granted in 1731? While the park is the major stake holder, private shareholders continue to use the water on their fields and in farm tanks.