Schedule Of Events
Search for Events
Events Upcoming for December
Showing 2 results

 RSS Feed
Thursday, December 25, 2014

Park is closed for the holiday. Contact church offices for Mass schedule. More

Location:

San Antonio Missions National Historical Park

Thursday, January 1, 2015

The park is closed for the holliday. More

Time:

9:00 AM to 5:00 PM

Location:

Missions San José, Concepció, San Juan, and Espada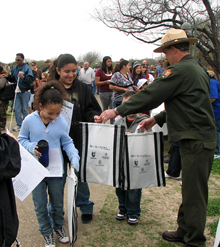 Events for 2014
Listed below are annual events that occur in the park. All are free of charge except where noted. Please e-mail and confirm time and dates of events before publishing in case changes have been made between the time of this printing and the day of the event.

February 22
Basura Bash, 8:00 am - 12 noon
Help keep our historic river clean. Volunteers are needed to collect trash and recyclables from the banks of the San Antonio River and area creeks.Registration to help at the San Antonio Missions is closed. Click here to volunteer at other sites.
March 1
Get Outdoors, 9:00 am - 1:00 pm
Free family fun at Mission San José, learning about the many outdoor recreational activities available around San Antonio. The prime goals of the day are reaching first-time visitors to public lands and reconnecting our youth to the great outdoors. Email us to help in the planning or to volunteer that day.
March 8
Oral History Workshop. For more information, email.
March 30
Siclovia
Síclovía is a free event that turns major San Antonio city streets in to a safe place for people to exercise and play.The streets become temporarily car-free for about 6 hours on Sunday for families to run, ride bikes, take exercise classes and enjoy their city streets. This year roads will be closed south of downtown along South St. Mary's and Roosevelt to Mission Concepción. For more information.
April 10
Make It Your Mission Gala
Missions, moonlight, and mariachis...a perfect way to spend a glorious spring evening at Mission San Juan Capistrano. A beautiful historical setting, a sumptuous Spanish colonial feast, fabulous auction items and toe-tapping entertainment. The reception features guided tours of the mission grounds, educational projects and other preservation works in progress.
April 21-27
National Park Week
Visit your local national park, San Antonio Missions. Then explore the NPS web site and start planning your summer vacation to one of over 390 sites around the nation.
April 26
Junior Ranger Day
Kids! Explore, Learn, and Protect YOUR national park by visiting San Antonio Missions and becoming a Junior Ranger. Tell Mom and Dad that it is free and you can begin at any of the missions (although Mission San José is the best starting point). We are open 9a-5p.
April 26
History and Geneology Day, 10:00 am - 2:00 pm
Families who have a connection to the San Antonio missions will share their research
April 27
San José Church Festival
Yearly church festival that is part of San Antonio's Fiesta celebration.
April 26-May 3
World Heritage Week
Activities and diplays highlightings the pursuit for the Spanish colonial missions of San Antonio to become a World Heritage Site. More information up-coming. San Antonio Missions Quest for World Heritage Status
May 9
Concert Under the Stars, 7:30 p.m.
Music Under the Stars offers a diverse musical palette. The USAA Concert Band and Jazz Band perform stirring marches, jazz, Latino, Big Band, patriotic and musical highlights from every decade. Exciting vocals add to the program, including the voices of the USAA Chorus. Pack a picnic and bring lawn chairs or blankets, and enjoy this wonderful FREE concert in one of San Antonio's most beautiful historic settings, Mission San José.
September 27
National Public Lands Day & Take Pride in America
The day for Americans to spend helping out on public spaces. The San Antonio Missions will be offering landscaping and trash pick-up opportunities. Help will also be needed to prepare crafts for Archaeology Day and Day of the Dead. Contact the volunteer coordinator for more information.
October 18
Archaeology Day, 9:00 am - 2:00 am
Mission San José hosts free hands-on activities, exhibits, and demonstrations for the whole family. Activities will emphasize techniques, information learned from digs/artifacts found at the missions, importance of preservation, and future archeology planned for the park.

Co-sponsors are the UTSA's Institue of Texan Cultures and Legacy Program, Southern Texas Archeological Association, San Antonio Museum of Art, San Antonio Office of Historical Preservation, Texas Historical Commision's Casa Navarro, San Antonio River Authority, and Southwest Texas Archeology Society, as part of Texas Archeology month .

October 25 - November 8
Dia de los Muertos Offrenda (Day of the Dead Altar)Visit the traditional offrenda at the park's Visitor Center that honors those employees and volunteers who have died.
December 6
"Mission to Mission" Bike Ride
Enjoy a leisurely bike ride to the four missions within San Antonio Missions National Historical park. Sponsored by Mission Trail Rotary Club.
December 20
Los Pastores, 7:00 pm
This Hispanic folk play depicts the shepherds' journey to worship the Christ Child and the obstacles the devil puts before them. This traditional play has been presented each year at Mission San José since 1947.