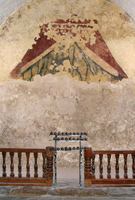 Transfer of the Mission

Originally founded in 1716 in what is now eastern Texas, the mission was one of six authorized by the government to serve as a buffer against the threat of French incursion into Spanish territory from Louisiana.
Developed by Franciscans and after a tenuous existence and several moves, the mission was transferred to its present site in 1731.
This handsome stone church took about 20 years to build, and was dedicated in 1755. It appears very much as it did over two centuries ago. Due to the fact that it was built directly on bedrock, it never lost its roof, or its integrity. It remains the least restored of the colonial structures within the Park.
In its heyday, colorful geometric designs covered its surface inside and out. The exterior patterns have long since faded or been worn away. However, there are several rooms in which to see remaining frescos with all their detail and creativity.