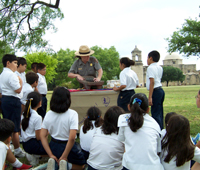 Planning Your School Visit
Maximize your class visit by scheduling a free ranger-led program. Quality, curriculum-driven programs are available free of charge. You can also contact us to help plan a teacher-led tour to the missions. Advanced scheduling is required.
For more information, call 210.534.8875 ext. 284, or email us.
To make reservations, please include the following:
School name
Address
City, State, Zip
Phone Number
Contact Name
Planned Date of Park Visit
Time of Arrival
Number of Students
Number of Chaperones ( 1 adult for every 10 students required)
Grade