Old Fall River Road will be closed in 2014 due to flood damage

Damages on Old Fall River Road are extensive and the road will remain closed to vehicles through 2014. It is unknown at this time whether hikers and bicyclists will be allowed on the road. More »
Impacts from September 2013 Flood

Due to recent flooding, there are still some closures in the park that could affect your visit. More »
Ranger-led Programs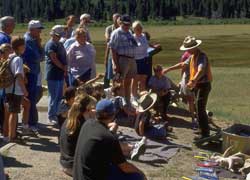 Park-wide Ranger-led Programs
March 23-June 14
Winter 2013/2014:
October 20-March 22
Fall 2013
September 3 - October 19
Summer 2013
June 16 - September 2
Special Programs
The 23 minute park movie, Spirit of the Mountains, is shown daily at Beaver Meadows Visitor Center.
Evening Programs are offered during the summer at Park Visitor Centers and several Campgrounds.
Night Sky & Astronomy Programs are offered during the summer.
All programs, unless otherwise specified, are free and open to the public. For more information about Rocky Mountain National Park call 970-586-1206.
Did You Know?

In 2004 there were 190 Search and Rescue incidents in the park, a very small number considering there were about 3 million visitors to the park in that same time period.