Impacts from September 2013 Flood - Old Fall River Road, Alluvial Fan and Trails

Select this link to learn More »
Ranger-led Programs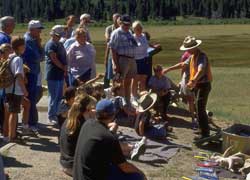 Park-wide Ranger Led Programs
Fall 2014
September 2-October 13
Summer 2014
June 15-September 1
Spring 2014
March 23-June 14
Winter 2013/2014
October 20-March 22

Special Programs
The 23 minute park movie, Spirit of the Mountains, is shown daily at Beaver Meadows Visitor Center.
Evening Programs are offered during the summer at Park Visitor Centers and several Campgrounds.
100th Anniversary Events are ongoing during the park's centennial celebration from September 2014 - September 2015.
The 50th Anniversary of the Wilderness Act is this year. Help celebrate by participating in special events. The Walk for Wilderness is Saturday morning, September 6.
All programs, unless otherwise specified, are free and open to the public. For more information about Rocky Mountain National Park call 970-586-1206.
Did You Know?
Rocky Mountain National Park hires master carpenters to repair its more than 150 historic structures. More...