Ranger-led Programs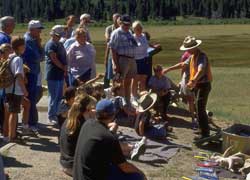 Park-wide Ranger Led Programs
Winter 2014/2015
October 14 - March 21
Fall 2014
September 2-October 13
Summer 2014
June 15-September 1
Spring 2014
March 23-June 14
Special Programs
The 23 minute park movie, Spirit of the Mountains, is shown daily at Beaver Meadows Visitor Center.
Evening Programs are offered during the summer at Park Visitor Centers and several Campgrounds.
100th Anniversary Events are ongoing during the park's centennial celebration from September 2014 - September 2015.
All programs, unless otherwise specified, are free and open to the public. For more information about Rocky Mountain National Park call 970-586-1206.
Did You Know?
Author William Allen White, the editor of the Emporia Gazette in Kansas, won a 1922 Pulitzer Prize for his editorial "To an Anxious Friend." His vacation cabin sits near the Moraine Park Visitor Center.