Videos & Podcasts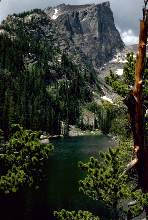 The multimedia section of the website shares interesting aspects of the park with you through audio and video presentations.
The Science Behind the Scenes series explores current topics in the park and presents the scientific research park staff have accumulated.

Roaming Rocky Podcasts will help you plan your visit to Rocky Mountain National Park. They may even give you tips on how to survive this beautiful and rugged terrain.
The Student Podcasts have been produced by students from Eagle Rock School. The podcasts offer a view of the park, its resources, and its issues through the eyes of the next generation of park personnel and advocates.
Meet Your Rocky Rangers Video Series features the various roles of rangers at Rocky Mountain National Park. Through this series you will learn about the jobs of Snowplow Rangers, Search and Rescue Rangers, Wildlife Biologist Rangers, and more.
The Living with Fire video series is a set informational videos regarding fire's role in shaping the park land, and gives tips for staying safe when visiting or living in fire-adapted ecosystems. Fires will continue to burn in RMNP, and we all need to learn how to live with wildland fire.
Check back often as the multimedia presentations will continue to grow.