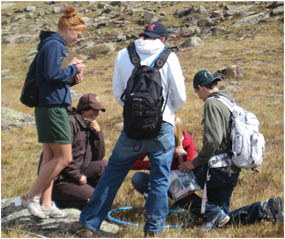 NPS Photo
November 2009
Environmental Education-Jessica
Hi! My name is Jessica Silveri and I am beginning my second season as an Environmental Education Intern at Rocky Mountain National Park.
My first memory of working at Rocky Mountain National Park is of a group of high school students that came all the way from Texas during their summer vacation for our environmental education program! I was impressed that people came to participate in this program from such a far distance. Even more impressive, was the excitement in many of the students' faces when they got to see and experience snow for the first time! Although it was mid-June, there were still patches of snow on the alpine tundra. This was my first indication that Rocky Mountain National Park and our environmental education programs leave lasting impacts on the students we serve.
Our summer programs are unique and varied. This past summer I got to work once weekly on the Discovery Day program for parents and kids at Moraine Park Visitor Center. Discovery Days was a very popular and well visited program. Although it was hard work to prepare, I know the program will leave a lasting impression on the families that participated!
I also got the opportunity to develop and teach a week-long Science Discovery camp for the University of Colorado-Boulder. Throughout the first four days of this program we stayed around the campus and taught the 8-10 year old students about observing nature using all their senses and how to make observations about the land, the sky, and the water. On the final day of our program, we brought the students to Rocky Mountain National Park to pull all their learning together. Much to our surprise, the students complained, a lot, while on the final day of camp. They got bug bites and thought the grass was too itchy. They were tired and hot. When it came time to conclude our entire week, we asked the students to share the favorite part of camp. Even after all the complaining, every single student said their trip to Rocky Mountain National Park was their favorite part of the week! This reinforced for me that our Park is a special place in some way for everyone who has the opportunity to spend time here.
As we begin our busy fall season, I keep this idea in mind. Regardless of the student's background when they enter the Park, they will all have an opportunity to leave with a wonderful new experience. Although the students may not remember what they learned at the Park forever, it is my job to also do as much as I can to ensure each student leaves Rocky Mountain National Park with a positive memory that does last forever.
After my internship ends, I know I will always remember the special places I have been able to visit and work. When I return to Rocky Mountain National Park in a few years, I will still recall my favorite mountains to hike and the places I was able to share with students. I know each student I interact with here will have a unique spot that gives them a similar feeling and I hope they too will return to visit that place. I encourage you, if you haven't found it yet, to explore our Park high and low so that you too can find your special place.
Your comments are welcome and may be posted on this website. To submit your comment by email, please click here.
---