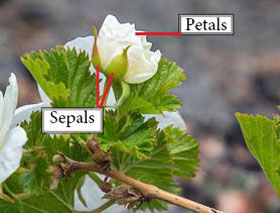 NPS photo by J. Westfall
Petals surround the male and female flower structures. While these eye-catching features add color and beauty to park landscapes, they are also extremely important in plant reproduction. The petal size, shape, and color attract pollinators, and serve as landing pads. Unusually shaped blue and purple petals are attractive to bees that like to wiggle up inside flowers, while wide-open yellow and orange flowers are favored by butterflies. Hovering hummingbirds seek out red tubular flowers. Sweet or musky flower scents attract specific pollinators such as bees, moths or flies. Nectar located at the base of petals is a nutritious reward.
Surrounding the petals are the sepals. Sepals often appear as green leaves, but may also be brilliantly colored (they are the blue structures of the Colorado blue columbine) or appear identical to petals (such as in white marsh marigold). Sepals provide protection to inner flower structures during bud formation and during storms or at night when the flowers of some species will close.
Next time you are hiking grab a hand lens and wildflower guidebook and observe the seemingly endless variety of colors, shapes, and arrangements of park wildflowers. Spend time perched next to a wildflower and notice the pollinators who come to visit and the tiny dramas occurring within the petals.