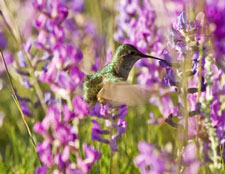 NPS photo by C. Johnson
If you stop to smell the flowers, you will find that many have a distinct odor. Some flowers produce an odor like dung or rotting flesh to attract flies. Others produce sweet scents that are more appealing to other insects such as butterflies and bees.
Perhaps one of the most interesting elements of wildflowers is the wide array of colors used to appeal to pollinators. Red, orange, and yellow flowers attract butterflies, while blue, purple, yellow and white flowers appeal to bees. Hummingbirds favor the color red. Some flowers have colors in the ultraviolet spectrum which are invisible to humans but are highly attractive to bees.