Grand Ditch Breach Restoration-Newsletter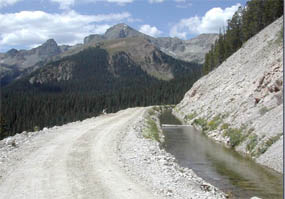 The Grand Ditch, a trans-basin, water-diversion canal constructed in the late 1800's, is located at the headwaters of the Colorado River in the northwest corner of Rocky Mountain National Park.
On May 30, 2003 the Grand Ditch breached its bank. The breach saturated an adjacent hillslope which gave way, creating a debris flow that sent an estimated 47,600 cubic yards (around 5,000 dump truck loads) of mud, rocks, and trees cascading down into Lulu Creek and the headwaters of the Colorado River. The damaged areas, approximately 22-acres in area and 1.5 miles in length, included upland, stream, riparian, and wetland habitats.
We are requesting your input in developing the Grand Ditch Breach Restoration Environmental Impact Statement. Your participation is vital to our planning process.
For more information about the EIS and how to get involved, download a printable newsletter by clicking here.