Groups can volunteer at Rocky!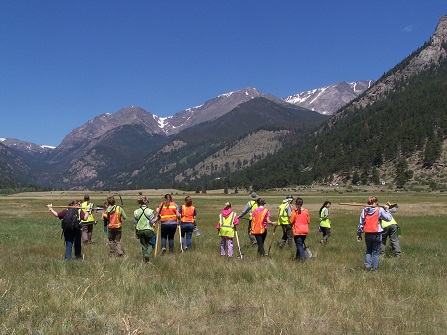 Rocky is home to one of the most dynamic and hard-working volunteer programs in the National Park Service. Each year, Rocky utilizes volunteer groups to augment paid-staff on various projects, from trails to working in the greenhouse. It's a great way for the park to get work done AND for groups to learn a lot about their park through service. It's a win-win!
Rocky is looking for groups interested in helping us out for the summer of 2015! For a list of our summer volunteer opportunities for groups as well as an application, Groups come from our neighboring towns in Colorado or other parts of the country to serve a day or two in Rocky. We offer opportunities for groups ranging in size from 2-20 (depending on the project and including any adult leaders) Click here for the current catalog. If your group is smaller or larger than the posted size, or you have members of your group that are under the age limit, please contact the volunteer office directly to see if we can accommodate you.
Some things to keep in mind when planning a day of volunteering in Rocky:
1. For all projects, we ask that the volunteers wear long pants, long sleeve shirts, and closed-toed shoes or boots. We also ask that groups come prepared for a day of work by bringing plenty of water, food, a hat, sunscreen and clothes appropriate for the weather. Groups who are camping must provide all of their own camping equipment.
2. The volunteer office will provide the group with a free entrance pass to the park for the dates of service (this will be mailed or emailed to the group point of contact ahead of time). The supervisors of the groups will provide leadership, tools and equipment for the projects as well as any safety equipment necessary. Additionally, a short orientation and safety briefing is given prior to your group starting work.
3. Rocky Mountain National Park is a high-elevation park ranging from 7,600 to over 14,000 feet above sea-level. Most volunteer work takes place between 7,600 and 12,000 feet in elevation. Keep this in mind when planning your work here… make sure that you get accustomed to the elevation before your scheduled work day.
4. We may be able to provide your group with free camping in the Administrative Loop of Moraine Park Campground. For every four hours of service, groups may be eligible for one night of camping. Free group camping is based on availability. Please see the camping section of the group application form (to follow) to request your camping. Also note that all group members staying in the Moraine Park Admin Loop campsites will be required to participate in the volunteer work.
5. The 2014 Catalog of Group Volunteering Opportunities will be published in early Spring.
6. Using the group application form (for 2015 season), please provide all of the required information, and submit the form via email, mail or fax to the volunteer office. Upon receipt, you will receive an email or call from the volunteer office confirming your application receipt.
Remember, an application does not guarantee a project. Please wait for paperwork from the volunteer office before making plans for your project. Group projects will be assigned in the order that the applications are received.
Thank you for considering volunteering with your group at Rocky!
For questions on the group volunteer program at Rocky Mountain:Call: 970-586-1330
Email: e-mail us
Fax: 970-586-1256
Mail: Volunteer Office Rocky Mountain National Park1000 Highway 36Estes Park, CO 80517