Research Fellowships

Photo credits, from top to bottom:
Fang-Yee Lin, Andrew Tremayne, Lacy Karpilo, Verity Salmon
Murie Science and Learning Center
Program of Research Fellowships
Applications are no longer being accepted for 2014 research fellowships.
Application materials were due February 15, 2014.

Kinds of Fellowships
In 2014, there are two research fellowships (made possible by two funding sources):
Discover Denali Research Fellowships (for studies in or near Denali)
Alaska Geographic Fellowships (for studies in one or more of 8 arctic and subarctic parks (Bering Land Bridge, Cape Krusenstern, Denali, Gates of the Arctic, Kobuk Valley, Noatak, Wrangell - St. Elias, and Yukon - Charley Rivers)
Both fellowship programs are designed primarily to provide funding for graduate students, but may also be appropriate for college faculty, undergraduates, agency scientists, and private-sector researchers. A researcher may submit an application requesting up to $8000 to be used over one or two years, but typically funding in previous years had been $6,000 or less. More than one fellow will be selected for each fellowship.



How to Apply
Details about the fellowships and how to apply are provided in a brochure.
Murie Science and Learning Center Program of Research Fellowships
2014 Application Instructions and Guidelines
Application Cover Page (be sure to fill out and include with application materials)



Research Fellows and the Projects Funded in Past Years
Photos and descriptions of projects for past research fellows:
2013 Research Fellows and their Projects
2012 Research Fellows and their Projects
2011 Research Fellows and their Projects
2010 Research Fellows and their Projects
2009 Research Fellows and their Projects



Photo Credit: Steve Thomas
More about the Fellowships...
The Murie Science and Learning Center is located in Denali National Park and Preserve (at ~Mile 1.5 on the Denali Park Road) and provides "research, discovery, and learning opportunities within arctic and subarctic national parks to promote appreciation and caring for our natural and cultural heritage." As part of its mission to connect people with their public lands, Alaska Geographic provides staffing and funding toward MSLC operations. The MSLC Program of Research Fellowships makes both fellowships possible.
Discover Denali Fellowships
are funded by the Denali Education Center (with proceeds from Discover Denali, an MSLC program developed in partnership between the Denali Education Center and the National Park Service). The Denali Education Center connects people to Denali through fun, informative, and inspiring programs that build lifelong friendships, lasting memories, and a sense of connection with nature. Denali Education Center has been a non-profit educational partner of Denali since 1989.
Alaska Geographic Research Fellowships are funded by Alaska Geographic through education programs at the Murie Science and Learning Center. Through a variety of science-based education and outreach efforts, Alaska Geographic provides much of the financial support for the MSLC. Alaska Geographic is a non-profit organization dedicated to connecting people to our public lands, and has been an active public lands partner in Alaska since 1959.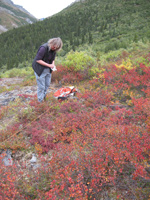 NPS Photo
Information for Applicants Conducting Studies in Denali
The following information may be helpful to Denali applicants: