Things To Do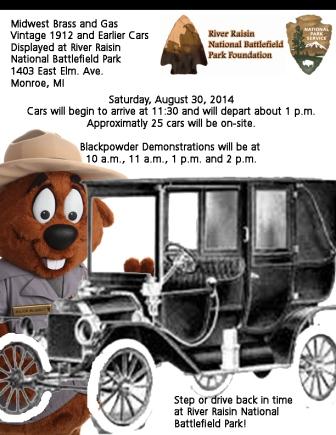 1912 and Earlier Cars to be at Battlefield

Saturday

!
River Raisin National Battlefield Park is pleased to host a visit by the Midwest Brass and Gas Club on Saturday August 30
th
during the scheduled Weapon Demonstration Day. The group is made up of 1912 and earlier cars. The twenty-five cars will start arriving around 11:30am and be here for about an hour or so and the public is invited to view them.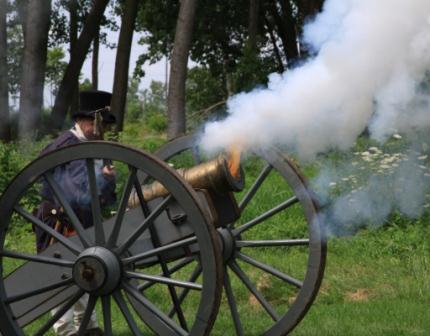 Weapon Demo Days!
River Raisin National Battlefield Park will be hosting Weapon Demo Days at the Park on Saturdays throughout the summer: July 26, August 16 & 30, September 13 & 27. Demonstrations will be at 10:00 a.m., 11:00 a.m. 1:00 p.m., and 2:00 p.m.
Learn about Black Powder Cannons, Muskets and Rifles used during the War of 1812. See the steps involved in preparing to fire a cannon with a cannon crew and learn the drilling techniques to fire a musket.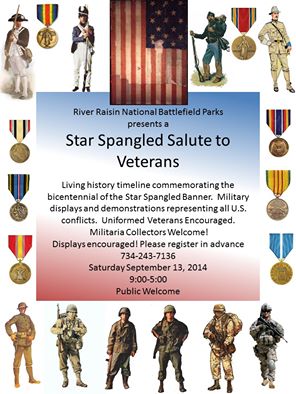 River Raisin National Battlefield Park Presents a Star Spangled Salute to Veterans!
September 13th, 9am-5pm, Join us or be a part of a Living History Timeline commemorating the Bicentennial of the Star Spangled Banner. Military displays and demonstrations representing all U.S. conflicts are welcome. Uniformed Veterans and Militaria Collectors are Encouraged! If you wish to be part of the timeline please register in advance by calling the park at 734-243-7136.
Did You Know?
"We became a world unto ourselves, rather than one turned toward Europe," says historian Gordon Wood. The economy took off in the years after the war as canals, roads, cities, and industries rapidly expanded. The war forced the nation to become self-reliant and demonstrated the need for factories, internal transport, a national bank, and domestic trade. More...