Things To Do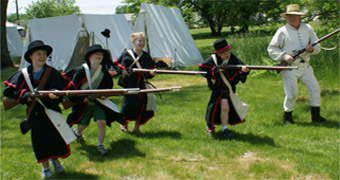 Spring Open House!
The Friends of the River Raisin Battlefield in cooperation with the National Park Service and the National Park Foundation are sponsoring an Open House on Saturday May 18, 2013 from 10am-4pm.
GAMES - MUSKET DRILLS - CAMP LIFE - ARCHAEOLOGY
Special Guest Presentation: Genot Picor
Both old and young will delight to Genot Picor's performance of Métis (French & Native American) stories, songs, and dances.
Genot Picor: 11:00 & 2:00
Archaeology 10:00 & 1:00
Musket Drill: Noon & 3:00
Children's Games 12:30 & 3:30
the "Major" may make an appearance if he decides spring has arrived!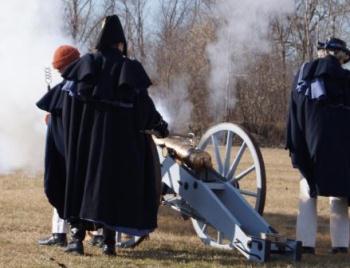 Weapon Demo Days!
July 13, August 10, September 14 & 28, 2013
Demonstrations at 10am, 11am, 1pm, 2pm. Learn about Black Powder Cannons, Muskets and Rifles used during the War of 1812.
See the steps involved in preparing to fire a cannon with a cannon crew and learn the drilling techniques to fire a musket.
Bring your ear plugs!
Did You Know?
"Major Muskrat" for dinner?? Oh no! The rodent, common to southeastern Michigan, helped early European settlers ward off starvation during the lean years of the War of 1812. And muskrat remains a local delicacy. Typically, it's parboiled with vegetables, cut in half and then fried with onions. More...