Things To Do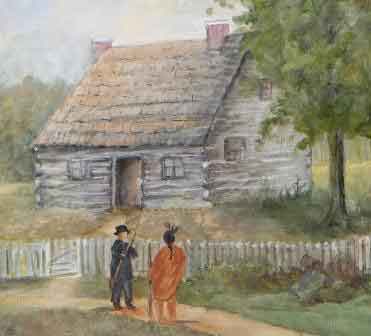 Liberation of Frenchtown!
Celebrate the Liberation of Frenchtown on Saturday, September 27, 2014 at the Park from 9am-5pm. There will be demonstrations of black powder with live Cannon and Musket Firing, Entertainment and Living History Encampment.
Venture Scouts will be encamped at the Battlefield and will be part of the nationally recognized world wide movement of "Messengers of Peace-The United States of America Trees for the World, One Scout One Tree" campaign. Scouts from all over the world will be planting trees on this date, at the Battlefield the Scouts will create a seedling nursery garden.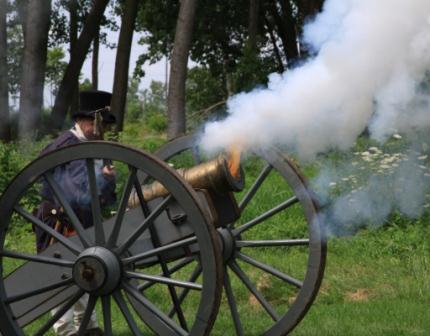 Weapon Demo Days!
River Raisin National Battlefield Park will be hosting Weapon Demo Days at the Park on Saturdays throughout the summer: July 26, August 16 & 30, September 13 & 27. Demonstrations will be at 10:00 a.m., 11:00 a.m. 1:00 p.m., and 2:00 p.m.
Learn about Black Powder Cannons, Muskets and Rifles used during the War of 1812. See the steps involved in preparing to fire a cannon with a cannon crew and learn the drilling techniques to fire a musket.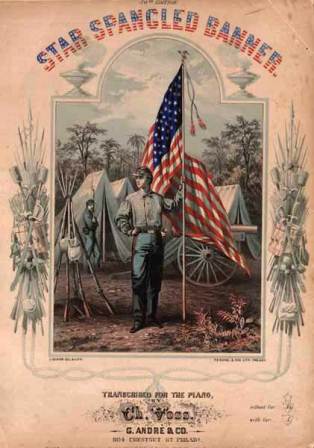 Poets & Patriots: Francis Scott Key
Songwriting and Citizenship
River Raisin National Battlefield Park will present "Poets & Patriots: Francis Scott Key, Songwriting and Citizenship on Sunday September 28, 2014 at 2pm. In celebration of the 200th Anniversary of Francis Scott Key's lyric and pivotal battles in the War of 1812, University of Michigan musicologist Dr. Mark Clague will offer a musical review of how a British musicians' club song became the national anthem of the United States of America.
Mr. Clague will review some of Key's other songs and demonstrate how the 1931 bill making the song the nation's official ballad, was not an act of legislative creativity, but simple recognition of a role the song had played in American life for decades.
Did You Know?
"Major Muskrat" for dinner?? Oh no! The rodent, common to southeastern Michigan, helped early European settlers ward off starvation during the lean years of the War of 1812. And muskrat remains a local delicacy. Typically, it's parboiled with vegetables, cut in half and then fried with onions. More...