Things To Do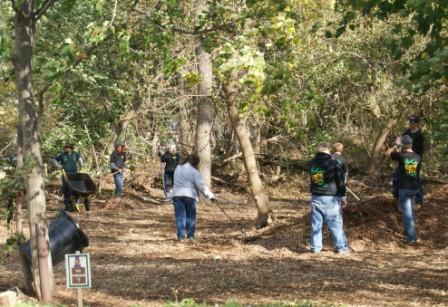 Celebrate Arbor Day at the Battlefield!
Be a part of history and come help us plant 2000 native seedling trees on the battlefield grounds on Saturday April 26, 2014 anytime between 9 am and 5 pm.
Great activity for families, groups, service organizations, etc... everyone is welcome! Please call the battlefield for more information or group registrations at 734-243-7136.
Sponsored by River Raisin National Battlefield Park, River Raisin National Battlefield Park Foundation and Boy Scouts of America.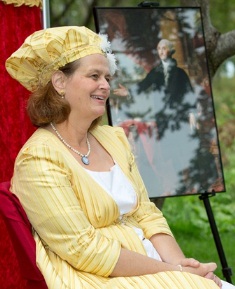 Dolley Madison Day!
River Raisin National Battlefield Park is pleased to host First Lady Dolley Madison on Saturday May 10, 2014 for two programs.
At 10:00 am in Dolley's Drawing Room children will learn about the Presidents and First Ladies through their portraits. Children will also have the opportunity to create a masterpiece of their own. Dolley will also have a special surprise for her guests.
At 2:00 pm all ages will enjoy celebrating Dolley's birthday as she would have 200 years ago, complete with birthday cake. Dolley will talk about her adventurers as the First Lady and reminisce about the War of 1812. What a perfect way to celebrate Mother's Day!
Volunteer Rebecca Roper portrays Dolley Madison for the President's Park, Washington, D.C.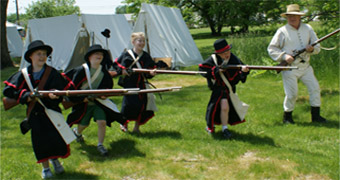 Spring Open House
River Raisin National Battlefield Park will celebrate a Spring Open House on Saturday, May 17th from 10am to 4pm. Events throughout the day include living history encampment, military weapons display, open fire cooking, period food display, herbal medicine display, storytelling, bicycle safety training and much more!
Archaeology field school is scheduled for 11am and 2pm. Black powder firing demonstrations will be at 11:30am, 1:30pm, 2:30pm, and 3:30pm. Military Drills and Children's Mini Militia at 1pm and 3pm. Visitor Center is open from 9am-5pm.
Sponsored by the Friends of the River Raisin Battlefield in cooperation with the National Park Service and the National Park Foundation.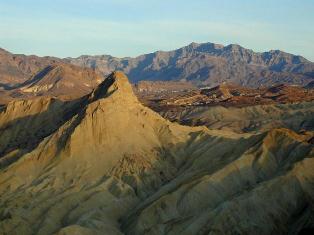 NPS photo
A WALK THROUGH THE VALLEY OF DEATH
On Sunday, May 18, 2014 at 2pm, join Roger Homrich Jr., who was the first person known to ever complete a cross country traverse through Death Valley National Park and live to tell the story. Mr. Homrich hiked for over two weeks covering 225 miles across the largest national park in the contiguous United States. He will talk about how he planned his journey, giving insights into gear selection and offering tips on both desert and cross-country hiking. He will share his inspiring account of surviving the hottest, driest and most unforgiving place in North America. See photos from his trek, and learn about the training and safety measures required for a safe hiking trip. You will be amazed by the beauty hidden deep in the mountains of Death Valley and understand why Roger's achievement received national attention in the world of backpacking and hiking.
Did You Know?
The War of 1812 was the United States first declaration of war, inaugurating a 32-month conflict with Britain that claimed almost as many lives as the Revolutionary War. The war also cemented the young nation's independence, opened vast tracts of Indian land to settlement, and gave Americans "The Star-Spangled Banner." More...