Things To Do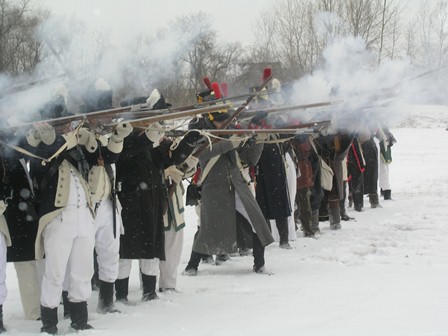 202nd Anniversary Commemoration of the Battles of the River Raisin
Join us on Saturday January 17th for the 202nd Anniversary Commemoration of the Battles of the River Raisin which took place on January 18 and January 22, 1813.
A full day of events is planned, you won't want to miss it!
10:30 am the troops will assemble at the Monroe Multi-Sports Complex, 333 N. Dixie Hwy. Monroe, MI. 48162
11:00 am Tactical Demonstration on the Multi-Sports complex grounds.
12:00 pm Commemoration Ceremonies at the River Raisin National Park Visitor Center, 1403 E. Elm Ave., Monroe, MI. 48162
1:00 pm Presentation by Brian Leigh Dunnigan at the Visitor Center. Mr. Dunnigan has been curator of maps of the William L. Clements Library since November 1996, and has also been the library's associate director since 2010. A Michigan native Brian has written numerous books and articles on the history of the early Great Lakes, Straits of Mackinac and the Niagara River region.
2:30 pm Presentation by Sandy Antal at the Monroe County Historical Museum, 126 S. Monroe St., Monroe, MI. 48161. Sandy Antal BA, B Ed, MA CD has served twenty years in the Canadian Forces. Sandy is author of award-winning book - "A Wampum Denied Procter's War of 1812" - the first comprehensive account of Anglo-Native operations on the Western Theatre and other works.