Outdoor Activities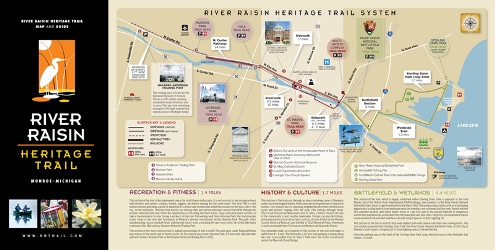 Heritage Trail
Visit the River Raisin Heritage Trail website to learn more about outdoor activities in our area.
The Heritage Trail has eight miles of paved hike-bike trails that provide safe and scenic routes to walk, run, cycle and in-line skate. The trail connects major historic sites, state and local parks, nationally significant buildings and ecological features. Parking areas and facilities can be found along the trails for your convenience.
Click to download the trail map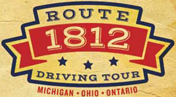 1812 Michigan Driving Tour
Get on the Route 1812 Driving Tour through Michigan, Ohio, and Ontario!
Join the driving force in preserving our historic automotive sites and supporting our unique automotive events.
Celebrate 200 years of peace by reliving some of the most heroic moments, bloodiest battles, and cowardly acts of the War of 1812 during the Route 1812 Driving Tour.
click here to download the multiple-page informational PDF and get on the road!
click here to visit the MotorCities website to find out more about the tour.
Did You Know?
The War of 1812 was the United States first declaration of war, inaugurating a 32-month conflict with Britain that claimed almost as many lives as the Revolutionary War. The war also cemented the young nation's independence, opened vast tracts of Indian land to settlement, and gave Americans "The Star-Spangled Banner." More...