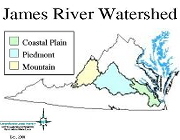 (Center for Coastal Resources Management, James River Watershed Map Gallery, 2000. Comprehensive Coastal Inventory Program, Virginia Institute of Marine Science, College of William and Mary, Gloucester Point, Virginia, 23062.)
Richmond National Battlefield Park lies within the James river watershed, which extends from the mountains of western Virginia to the mouth of the Chesapeake Bay. This watershed connects the park to water quality issues across the state and even into the Atlantic Ocean. The natural barrier of the mountains, and the slope of the land guide rain and other surface water to the east. As this occurs, smaller tributaries combine to form streams and creeks such as those found throughout the park. The James River is the result of many of these smaller tributaries converging across central Virginia. Therefore, the health of the James river is dependant on the quality of every source that feeds it, just as the Chesapeake Bay and the Atlantic ocean depend on the water quality coming from the James.
The health of the watershed can be affected by factors such as sediment runoff from development as well as chemical and waste products from roads, parking lots and agricultural sites. For this reason, the park shares responsibility for the health of this valuable watershed by conducting all actions in a manner that will protect the water quality in its many stream habitats. This includes properly disposing of chemical products, following labeled instructions for pesticide applications, and maintaining forested buffers around stream and wetland habitats. This will help to ensure that the natural resources of the James River watershed, as well as the Chesapeake bay, will be preserved for the future.