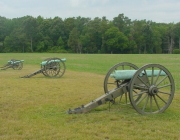 (NPS Photo)
Visitors to Richmond National Battlefield Park can enjoy the numerous scenic vistas with both natural and historical significance.
Drewry's Bluff, Fort Harrison, Chimborazo, and the Tredegar Iron Works all offer scenic perspectives on the James river. Once a key element in the battles surrounding Richmond, the James remains important as a natural and economic resource. The broad open fields at Malvern Hill and Gaines' Mill allow visitors to overlook historic battlefields framed in a natural setting. The wetlands along Crewes' Channel and Beaver Dam Creek provide visitors with expansive views of some of the parks richest natural resources. The marshes, ponds, and streams at these sites are home to a beautiful assortment of wildlife and vegetation unique to the wetland environment.
The scenic vistas within Richmond National Battlefield Park allow visitors to make a strong connection with the natural and cultural resources the park has to offer. They provide an otherwise elusive taste of the natural environment and the historical events that have taken place within it.