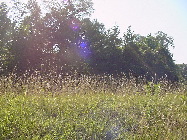 (NPS Photo)
The native grasses of Richmond National Battlefield Park contribute to the preservation of both natural and cultural resources. The park's many maintained fields and open earthworks are preserved as closely as possible to historic war-time conditions.
Native grasses such as little bluestem and broom sedge are important for maintaining historical accuracy because these species approximate the look of cultivated crops which provided the primary cover for many of the battlefields during the war. In addition to replicating the historical landscape, native grasses play an active role in protecting park earthworks for generations to come. National Park Service documentation and the park's ongoing earthwork preservation program have established tall native grass cover as a key factor limiting earthwork erosion. Native grass seeding and planting regimens have been established within the park to help preserve these delicate monuments.
The native grass covered fields within Richmond National Battlefield Park provide excellent browsing and nesting habitat for a wide variety of animal species while retaining their historical appearance.