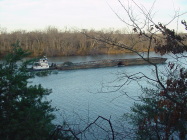 Because Richmond National Battlefield Park consists of many non-contiguous units surrounded by various degrees of human development, it is faced with a variety of environmental issues that must be addressed. Water quality, invasive species, erosion, and land-use transitions are currently being monitored and managed by the park.
The scattered distribution and smaller size of some of the units complicates the park's management efforts. Often the scope of an environmental factor extends well beyond park boundaries making it difficult to respond effectively to any issue that may develop. An excellent example of this is the water quality in the parks many streams and creeks. The park tests water quality across many sites, however, the results are closely tied to upstream conditions which are often not under the park's control. The invasive species management program faces similar obstacles in controlling the spread of species such as Japanese honeysuckle and Oriental bittersweet. These species' seed sources are often on adjacent lands, creating a challenge for long term control.
Some management issues occur wholly within park boundaries, but are controlled primarily by environmental constraints. For example, erosion is of great concern along the parks many miles of historic earthworks. The long, steep slopes and infertile soils inherent to many of the park's earthworks combine to magnify their vulnerability to erosion. Native grass plantings as well as various other ground cover treatments are currently being employed to help prevent the degradation of these cultural resources. As with water quality and invasive species, the sources of many environmental issues are often beyond the control of the park. In response, Richmond National Battlefield employs a program of active monitoring and management which has become an important tool in minimizing negative environmental effects within the park.