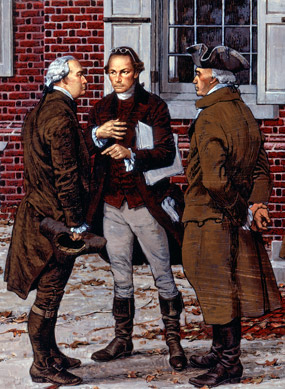 Louis Glanzman
The Shelton Story
One hundred and ten years before the contending Civil War armies collided here, patriot and orator Patrick Henry married Sarah Shelton, of this house. Family legend maintains that the wedding occurred in the parlor on the northwest side of the main floor. Henry grew to manhood in this county. He delivered his legendary "Give me liberty or give me death!" speech in Richmond in 1775.
Built in about 1723, the house remained in the Shelton family continuously for more than 280 years. The final generation of Sheltons sold the home and 124 acres to the Totopotomoy Battlefield at Rural Plains Foundation in 2001. The Foundation donated the house and land to Richmond National Battlefield Park in 2006, thus ensuring that countless generations of interested visitors will have access to the historic property.
Preserving the site's many resources and making them available to the public is a multi-layered process. Emergency repairs to the house have stabilized it. Archeology and related research continues to provide new information about the site's history. The National Park Service envisions Rural Plains as a critical stop for anyone touring the 1864 Overland Campaign, bridging the gap between the North Anna battlefield and the Cold Harbor battlefield.