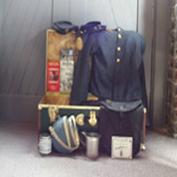 National Park Service
Reserve a Civil War Traveling Trunk for your students. Learning adventures and hands-on items will bring your classroom to life. What would it feel like to be a Civil War soldier? Try on a wool Confederate and Union uniform with accoutrement or dress as a lady living in Richmond during the war. Listen to Civil War music, watch videos of battles and ironclad ships, and explore "Cobblestone" magazines to learn about Civil War leaders, medicine, and children in the war. The traveling trunk also includes a 6 foot poster / timeline that highlights Civil War Richmond, a teacher guide, and student activity sheets. This trunk is available for a 2 week period and is designed as a hands-on introduction to the Civil War which will complement your classroom teaching. This is free of charge, though the school is responsible for picking the trunk up and returning it.
Reservations are required. Please call or e-mail the education staff at 804-771-2018.