Curriculum-based Programs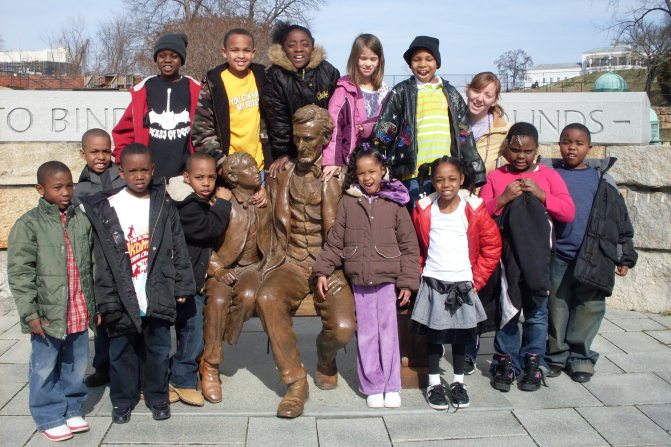 NPS Photo
All programs are free, but require a reservation. Reservations fill up quickly, please book as soon as possible. Contact the education department to book a field trip.
EDUCATION PROGRAMS AT TREDEGAR IRONWORKS
470 Tredegar St., Richmond VA 23219
The Cannon's Roar (4th - 12th grade): Artillery played a critical role in the Civil War. To understand the importance of cannon and the mathematics necessary to operate them, students role-play an 8-member artillery crew with historically accurate equipment in this 30 minute program. Students will investigate and explore a cannon that was made at Tredegar Iron Works and used during the Civil War.
Treasures at Tredegar (4th - 8th grade): The city of Richmond, center of governmental, political, social, economic, military and industrial activity, was important to both the North and the South. During this 35 minute program at Tredegar Iron Works, students will gain a better understanding of Richmond's vital role during the Civil War as they participate in a treasure hunt through the museum's exhibits.
Civil War Richmond (6th - 8th grade): This 30 minute ranger-guided program is designed for middle school students. Students will explore the causes, events and effects of the Civil War. Students will create a time line, hear voices of the war from the perspectives of Union and Confederate soldiers, women and slaves, and identify the 13th, 14th, and 15th amendments to the Constitution.
Meet Mr. Lincoln (1st - 3rd grade): This 1.5 hour program will highlight the life of Abraham Lincoln and his role in U.S. history. A black wool coat and Lincoln's stove pipe hat will be used as props as a park ranger reads "Abe Lincoln's Hat" by Martha Brenner. Students will view photographs and participate in activities to learn about our 16th president. A hands-on timeline of major events of the life of Mr. Lincoln will be highlighted. Bring a camera to take photos of students with Mr. Lincoln and his son Tad.
The Common Soldier of the Civil War (4th - 12th grade): In this 30 minute presentation, a National Park Service Ranger provides a duffel bag of Civil War uniforms, equipment and items related to the everyday life of the common soldier. Students hear the stories of Union and Confederate soldiers who fought around the Richmond area as well as other major battles of the Civil War.
Mills, Waterwheels and Raceways (3rd grade): This 1 ½ hour program is designed especially for the 3rd grade. The James River and Kanawha Canal provided waterpower for Richmond's early industry at Tredegar Iron Works where both black and white civilians were employed. Students participate in a ranger-guided tour of this site where they observe canals, mills, raceways, and waterwheels. Grid maps and models of Tredegar Iron Works will emphasize the importance of water to this site.
Standards of Learning:
History: 1.2, 2.11, 2.12, 3.5, 3.6, 3.7, 3.8, 3.11, 3.12, VS.1, VS.7, VUS.7, VUS.8, USI.1, USI.9 and USI.10
Science: 3.2
English: 1.1, 3.1, 3.6, 4.1, 4.2, 5.1, 5.2, 5.6
Facilities on Premises:
Restrooms/ Picnic area including tables and water fountain.
Please bring trash bags for clean-up.
Bookstore--Teachers may pre-order souvenir bags for the group.
Handicapped Provisions: Yes