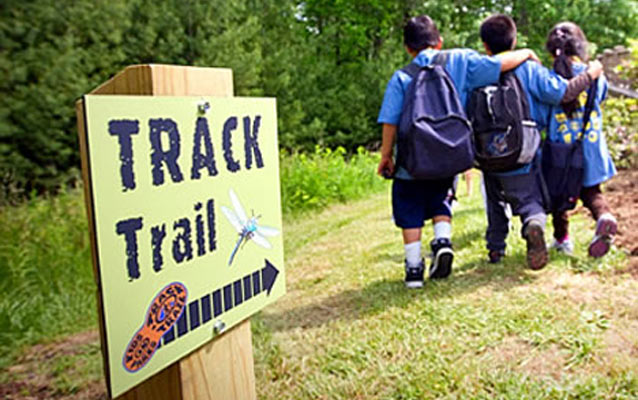 Blue Ridge Parkway Foundation
Quick Facts
GETTING READY FOR 2016:

Action Item:

Take a Hike, Call Me in the Morning

Also Promotes:

Next Generation Stewards

States:

North Carolina, Virginia

Year Accomplished:

2012
Answering the Call To Action's Goal # 6, "Take A Hike", the National Park Service's long standing goal of "connecting people to parks" has been enhanced through the Kids In Parks partner program, initiated on the Blue Ridge Parkway.
In 2008, the Blue Ridge Parkway Foundation, the Blue Ridge Parkway and the Blue Cross and Blue Shield of North Carolina Foundation partnered to form the Kids in Parks TRACK Trails program, a program designed to get kids "unplugged" and outdoors for their health and the health of our parks. Today, Kids in Parks has established more than 18 TRACK Trails on, and in communities along, the Blue Ridge Parkway, creating a network of self-guided, brochure-led hiking trails (and other types of trails) that encourage kids and families to become physically active.
Modeled after the Junior Ranger Program and other NPS self-guided experiences, each TRACK Trail has a series of brochure-led adventures that kids and families can use to discover the natural, cultural and historic resources found along the trail. TRACK Trail locations are networked together through the program's website (kidsinparks.com), and kids who hike TRACK Trails and register their adventures through the website earn incentives (prizes) designed to encourage additional outdoor adventures. Program assessments are built into the delivery of those incentives through an online questionnaire that kids must complete, and that data is shared with the partnering site, allowing them to gain insight into their visitor preferences.
To date, more than 600 individual kids have registered 800+ TRACK Trail adventures. Of the 600 kids registered, more than 10% visited more than one TRACK Trail location, proving that the "networks" of trails are encouraging kids and families to get outdoors, to visit more than one location and to go hiking. Through an observational study conducted in partnership with a local university, the program has determined its registration rate (~3%) and can extrapolate certain health based outcomes about the program's success: more than 15,000 child miles have been hiked, approximately 2 million Calories burned, and more than 7,000 hours spent "un-plugged", outdoors and active in nature.
Exemplifying the power of partnerships and further responding to the Call To Action, Kids in Parks has expanded its reach and has trails in several National Park Service sites, three different State Park systems (NC, VA, and SD), the US Forest Service and the Army Corps of Engineers, multiple city and county parks departments and private property owners to install TRACK Trails on their sites. The Kids in Parks program has been able to partner with all of these organizations because TRACK Trail materials (trailhead sign and self-guided brochures) were designed to be template-able, making the materials extremely transferable from location to location, and aiding in the rapid expansion of the program into local, regional and national networks.