Warning: Elk Calving Season, Elk Can Be Aggressive

Female (cow) elk are defensive of their newly born calves. As people approach, a cow may charge and/or rear up and lash out with her front legs. For your safety, STAY 500 FEET AWAY from elk, at all times. More »
Davison Road Maintenance begins 7/7/2014. Expect delays.

Beginning July 7, road crews will be grading sections of Davison Road between the hours of 8 am and 4:30 pm. Visitors to Gold Bluffs Beach and Fern Canyon should expect 30 minute delays.
Tall Trees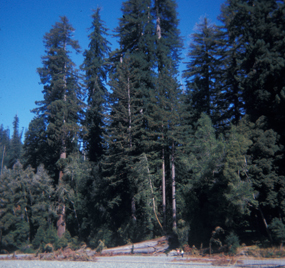 NPS Collection
Tall Trees Grove:
· Permits to visit the Tall Trees Grove are available for no charge at the Thomas H. Kuchel Visitor Center, located on Highway 101, one mile (1½ km) south of Orick, at the Crescent City Information Center at 1111 Second Street, and at Prairie Creek Visitor Center on the Newton B. Drury Scenic Parkway. Visitors should plan to spend three to four hours for this hike. Limited to 50 cars per day.
Did You Know?

Four species of frogs and one toad utilize aquatic habitats within the redwood region. The northern red-legged frog is quite abundant and is well-camouflaged on the moist forest floor. More...