Newton B. Drury Scenic Parkway is CLOSED due to hazardous road conditions.

Due to a recent landslide, the Parkway will be closed to vehicle traffic. Roads crews are currently working to clear the slide. The road remains open to bicycle and pedestrian traffic.
Hazardous Weather Outlook Issued

Expect high water levels in rivers. Sneaker waves possible on coastal beaches. More »
Newton Drury Parkway will be Closed at Night Due to Increased Wood Poaching

Effective Saturday, March 1, 2014, the parkway will be closed each day at sunset and re-opened at sunrise. More »
Tall Trees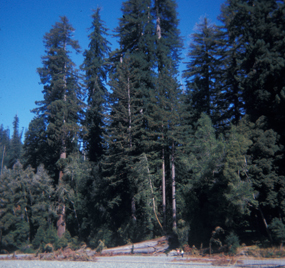 NPS Collection
Tall Trees Grove:
· Permits to visit the Tall Trees Grove are available for no charge at the Thomas H. Kuchel Visitor Center, located on Highway 101, one mile (1½ km) south of Orick, at the Crescent City Information Center at 1111 Second Street, and at Prairie Creek Visitor Center on the Newton B. Drury Scenic Parkway. Visitors should plan to spend three to four hours for this hike. Limited to 50 cars per day.
Did You Know?

Four species of frogs and one toad utilize aquatic habitats within the redwood region. The northern red-legged frog is quite abundant and is well-camouflaged on the moist forest floor. More...