Most campgrounds remain OPEN. Sites are available on first-come, first-served basis.

Jed Smith, Elk Prairie, Gold Bluffs Beach campgrounds are OPEN. All sites are available on first-come, first-served basis. Mill Creek Campground is CLOSED and will reopen May 16, 2014. More »
Gravel Access Road CLOSED.

Gravel access road to the Tall Trees trailhead is closed until further notice. Tall Trees Trail and Grove are still open. The easiest way to access this area is by hiking the Redwood Creek Trail, which is 8 miles one way.
Tall Trees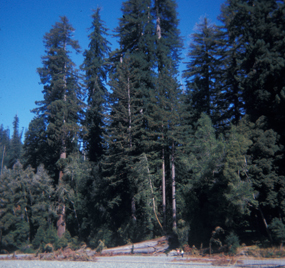 NPS Collection
Tall Trees Grove:
· Permits to visit the Tall Trees Grove are available for no charge at the Thomas H. Kuchel Visitor Center, located on Highway 101, one mile (1½ km) south of Orick, at the Crescent City Information Center at 1111 Second Street, and at Prairie Creek Visitor Center on the Newton B. Drury Scenic Parkway. Visitors should plan to spend three to four hours for this hike. Limited to 50 cars per day.
Did You Know?

The famous drive-through giant sequoia in the Mariposa Grove of Yosemite National Park fell in 1969 under heavy snow. Today there are three coast redwood drive-through trees along Highway 101 in northern California. All are on private property and charge admission.