Kayaking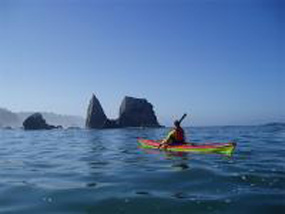 Kayak Zak's
Paddling past ocean seastacks: greenstone and chert rock left standing after erosion.
Experience kayaking on North Coast rivers, lagoons, harbors, coves, and in the ocean. Contact permittee
Kayak Zak's
to dance on water!
PO Box 68 Orick, CA 95555-0068.
(707) 498-1130
Did You Know?

You can travel by car to Gold Bluffs Beach to hike along a meandering stream through a hidden canyon with 30-foot walls covered by several species of ferns. Follow steps up to James Irvine Trail to a prairie that was once a small mining town above Fern Canyon.