Campgrounds open and space available, but reservations no longer accepted.

As of 9.3.2012, winter reservations no longer accepted (via reserveamerica.com; 1-800-444-7275) for Jed Smith, Mill Creek, and Elk Prairie campgrounds. This does NOT mean that sites are unavail. All sites avail. first-come, first-served basis until May. More »
Miners Ridge and Ossagon backcountry camps closed indefinitely.

Backpacker sites avail. during summer only at Gold Bluffs Beach Campground (8 sites avail.; free permit req'd; $5 fee paid on site) and year-round at Elk Prairie Campground (hiker/biker sites avail., first-come, first-served; $5 fee paid on site). More »
Kayaking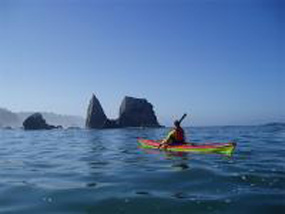 Kayak Zak's
Paddling past ocean seastacks: greenstone and chert rock left standing after erosion.
Experience kayaking on North Coast rivers, lagoons, harbors, coves, and in the ocean. Contact permittee
Kayak Zak's
to dance on water!
PO Box 68 Orick, CA 95555-0068.
(707) 498-1130
Did You Know?

Did you see that bullet cross the treetops? That's the marbled murrelet! The robin-sized seabird nests on the branches of old-growth conifer trees and flies to and from the ocean at 60 miles per hour. In the ocean, it feeds on fish. This bird is listed as state-endangered and federally-threatened.