Getting Around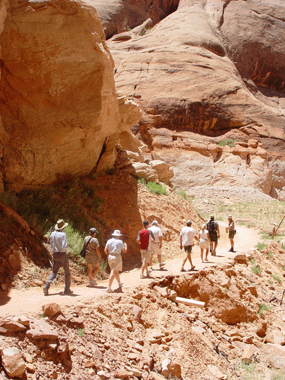 By Boat
Rainbow Bridge is only accessible by boat or by land over a 14 mile trail. Visitors may take their personal boats to Rainbow Bridge. Boat tours to the Bridge are available from Aramark and Antelope Point, the park's concessioners. Once you dock your boat there is a 1.5-mile trail to the Rainbow Bridge obervation area.
By Land
If you choose to backpack to Rainbow Bridge, a permit must be obtained from the Navajo Nation.


Navajo Nation Parks and Recreation Department

link to ordering your Rainbow Bridge hiking permit
Did You Know?

John Wetherill was already the Superintendant of Navajo National Monument when he was also given the same task for Rainbow Bridge National Monument. He operated both monuments, provided tours and supplies, and lived at his Kayenta, AZ trading post.