Getting Around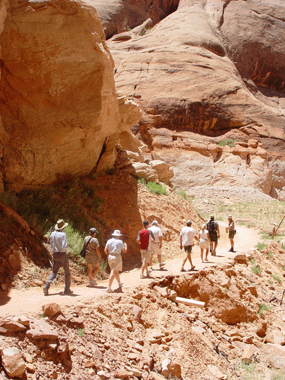 By Boat
Rainbow Bridge is only accessible by boat or by land over a 14 mile trail. Visitors may take their personal boats to Rainbow Bridge. Boat tours to the Bridge are available from Aramark and Antelope Point, the park's concessioners. Once you dock your boat there is a 1.5-mile trail to the Rainbow Bridge obervation area.
By Land
If you choose to backpack to Rainbow Bridge, a permit must be obtained from the Navajo Nation.


Did You Know?

In the summertime, temperatures at Rainbow Bridge can get well over 100, and there is no shade on the trail from the dock to the observation area. Make sure you have plenty of water, sunscreen, and a hat so you can avoid becoming a crispy critter!