Getting Around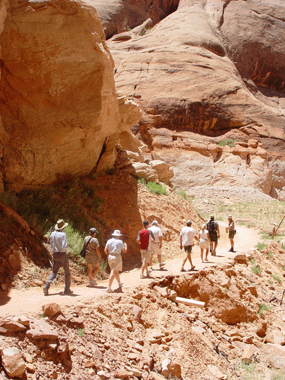 By Boat
Rainbow Bridge is only accessible by boat or by land over a 14 mile trail. Visitors may take their personal boats to Rainbow Bridge. Boat tours to the Bridge are available from Aramark and Antelope Point, the park's concessioners. Once you dock your boat there is a 1.5-mile trail to the Rainbow Bridge obervation area.
By Land
If you choose to backpack to Rainbow Bridge, a permit must be obtained from the Navajo Nation.


Did You Know?

The Dangling Rope Marina operates the largest stand-alone photovoltaic system in National Park Service. The 237 solar panels removed the need for diesel fuel to be sent by barge to this remote marina.