Directions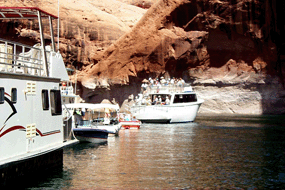 By Boat:
Trips to Rainbow Bridge may be made across Lake Powell in Glen Canyon National Recreation Area using private, rental, or tour boats. From Wahweap, Antelope Point, and Dangling Rope, travel north. From Bullfrog and Halls Crossing, travel south. Proceed to the mouth of Forbidding Canyon (buoy 49), where a floating sign on the right marks the canyon entrance. Follow the canyon about 2 miles (4 km) to another sign that points the way left through a narrow passage. Proceed with caution! Beyond the wakeless buoys, go slowly so that no wakes, or waves, are made. A courtesy dock is available for short-term docking while people make the 2 mile (3.2km) walk to the bridge.
By Hike:
You may backpack to Rainbow Bridge across Navajo Nation lands. A permit from the Navajo Nation is required. You may write to: Navajo Nation, Parks and Recreation Department, Box 9000, Window Rock, Arizona 86515.


Did You Know?

Rainbow Bridge spans 275 feet across Bridge Creek in an almost perfect parobolic arch. The top of the arch is 42 feet thick and 33 feet wide.