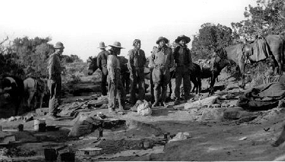 "Next morning early we started our toilsome return trip. The pony trail led under the arch. Along this the Ute drove our pack-mules, and as I followed him I noticed that the Navajo rode around outside. His creed bade him never pass under an arch.This great natural bridge, so recently 'discovered' by white men, has for ages been known to the Indians." Theodore Roosevelt, after his 1913 visit, -- A Book Lover's Holiday in the Open
By its wonderous size, to say nothing of its majesty and mystery, Rainbow Bridge has inspired humans throughout time. From the time the bridge became known to the outside world in the early twentieth century, thousands of people from around the world have visited each year. From its base to the top of the arch, it is 290 feet-nearly the height of the Statue of Liberty-and spans 275 feet across the river; the top of the arch is 42 feet thick and 33 feet wide.
Tucked among the rugged, isolated canyons at the base of Navajo Mountain, Rainbow Bridge was known for centuries by the Native Americans who lived in the area.Native Americans living in the region have long held the bridge sacred. Ancestral Puebloan residents were followed much later by Paiute and Navajo groups. Several Paiute and Navajo families, in fact, still reside nearby.
By the 1800s, Rainbow Bridge was also surely seen by wandering trappers, prospectors, and cowboys. Not until 1909, though, was its existence publicized to the outside world. Two separate exploration parties-one headed by University of Utah dean, Byron Cummings, and another by government surveyor, W.B. Douglass-began searching for the legendary span. Eventually, they combined efforts. Paiute guides Nasja Begay and Jim Mike led the way, along with trader and explorer, John Wetherill. Men and horses endured heat, slickrock slopes, treacherous ledges, and sandstone mazes. Late in the afternoon of August 14, coming down what is now Bridge Canyon, the party saw Rainbow Bridge for the first time.
The next year, on May 30, 1910, President William Howard Taft created Rainbow Bridge National Monument to preserve this "extraordinary natural bridge, having an arch which is in form and appearance much like a rainbow, and which is of great scientific interest as an example of eccentric stream erosion." After the initial publicity, a few more adventurous souls journeyed to Rainbow Bridge. Teddy Roosevelt and Zane Grey were among those early travelers who made the arduous trek from Oljeto or Navajo Mountain to the foot of the Rainbow. Visiting Rainbow Bridge was made easier with the availability of surplus rubber rafts after World War II, although the trip still required several days floating the Colorado River plus a 7-mile hike up-canyon. By the early 1950s, people could travel by jet boat from Lees Ferry, then make the hike-a trip totalling three days!