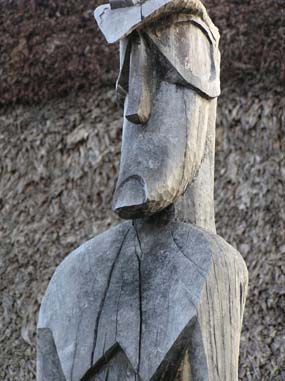 Discover and Experience Ancient Hawaii
At Pu'uhonua o Honaunau National Historical Park, you can learn about and appreciate the richness and depth of Hawaiian history and culture.
A self guided tour takes you back in time as you explore the ancient Royal Grounds, which were once reserved for the chiefdom of Kona. Passing beyond the wall that borders the Royal Grounds you will walk onto the Pu'uhonua, where people found refuge after war or breaking a kapu (religious law).
Sit at the papamu (stone playing surface) in the Royal Grounds and challenge a partner to Konane. This game was enjoyed in ancient Hawaii by both the Ali`i (royalty) and the commoners. It was said that King Kamehameha the Great was an excellent player, sometimes beating his opponent in one move. Ask for the rules at the visitor center.
Take time to interact with Hawaiian cultural demonstrators. Learn about weaving, fishing, carving and other trades and crafts that dominated the lifestyle of the people who lived in the surrounding ahupua'a (district).
Discover and experience ancient Hawaiian culture by hiking, taking photographs, or studying the natural resources.
View some unique remains of a former civilization by hiking the 2 mile round-trip, 1871 Trail to Ki'ilae Village. The hike returns via the coastal trail and the picnic area. A trail guide is available at the visitor center.
Observe the honu, green sea turtles, foraging for food in the shallow waters of the Keone'ele (royal cove) or basking in the sun on the rocks.
Identify the native flora that grows throughout the park and discover what cultural or medicinal benefits each plant provided.
Experience the natural beauty of the land and ocean by exploring a tidepool, birdwatching, or learning about Hawaiian marine life.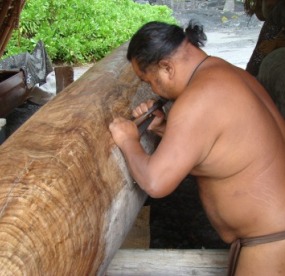 Witness the Fascinating Work of the Park's Cultural Demonstrator
If you are visiting the Park between Tuesday and Saturday, you may have an opportunity to witness the traditional craft skills of ancient Hawaiians or listen to the fascinating tales of the times past. Charlie Grace, the Park's cultural demonstrator, is a very skilled canoe and wood carver, fishing implement maker as well as many other traditional craft items, and is a wonderful story teller full of knowledge. Look for him in the small Hale (hut) where he may be crafting a fish net, carving a wooden image, or telling stories of the past.