Closure of Park Amphitheatre

Amphitheatre programs and amphitheatre will be closed through the end of the year due to construction.
Fees & Reservations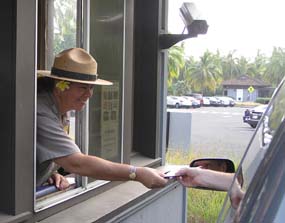 Fees assist the park in providing educational and cultural programs. Fees also fund projects which continue the preservation of Hawaiian culture.
Park Entrance Fees:

$5.00 per vehicle - 7 days

$3.00 per individual - 7 days

$25.00 Tri-park Annual Pass
Vehicle

$5.00 - 7 days

Admits one single, private, non-commercial vehicle and all of its passengers (up to 8 persons). Organized non-profit groups (service organizations, scouts, church groups, college/school clubs) are not eligible for the $5.00 vehicle permit if utilized.


Individual

$3.00 - 7 days

Admits one individual when entering by foot, bicycle, or motorcycle. Individuals 15 years old and younger are admitted free of charge.

Hawai`i Tri-park Annual Pass

$25.00 - Annual

Allows access for 1 full year from date of first use at Pu'uhonua o Honaunau National Historical Park and Hawai`i Volcanoes and Haleakala National Parks.


other National Park passes and more...


Commercial Tours

To operate a business, profit or non-profit, the park requires a Commercial Use Authorization (formally known as Incidental Business Permit). All commercial tours that enter the park on a regular basis must have a CUA and are required to pay the commercial tour fee at the entrance station on each visit. more…

Educational Fee Waiver

Academic institutions may be eligible for a fee waiver. more...
2012 Fee Free Days:
The following days have been designated as fee FREE days for 2012 (entrance fee will be waived):
January 14-16 (Martin Luther King, Jr. Birthday Weekend)
April 21-29 (National Park Week)
June 09 (Great Outdoors Day)
September 29 (National Public Lands Day)
November 10-12 (Veterans Day Weekend)



Did You Know?

Did you know that traditional Hawaiian masonry is both dry-set and non-dressed? This means that it uses no mortar to bind stones together and that the stones are not shaped. Stones are meticulously fitted and locked into place using the natural porous nature of the lava rock.