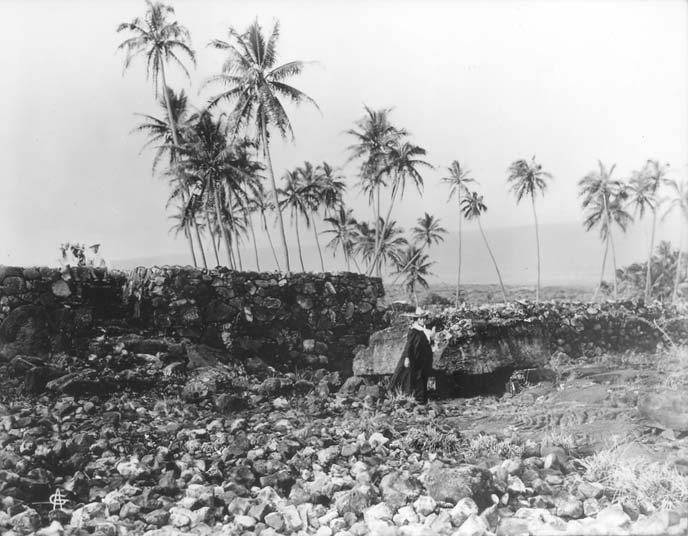 PUHO Archives
This large platform is located centrally within the Pu'uhonua. The first written descriptions of the heiau were recorded by William Ellis. Ellis indicates that at the time of his visit in 1823 the structure was largely intact. Subsequent to his visit, periods of high surf and at least one large tsunami took a significant toll on the condition of the heiau. The platform was restored in 1902 under the direction of William Wright who also added steps in the southern wall for the convenience of the visitors.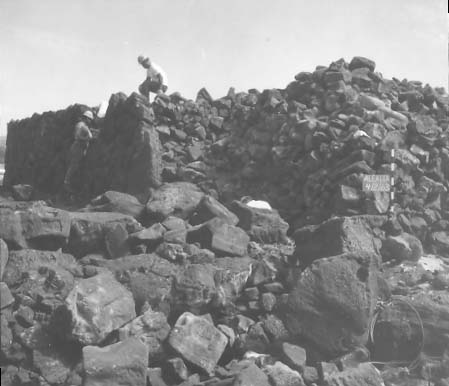 NPS Photo
When the park was formed in the early 1960's 'Āle'ale'a Heiau was found to be structurally weak and in need of repair. In 1963, Edmund J. Ladd oversaw test excavations and stabilization at the site. Ladd's excavations led to the discovery of a complex of internal walls, interpreted by Ladd as representing earlier constructions phases. Seven chronological construction phases were identified.
Originally, the heiau was likely constructed in association with the Pu'uhonua, but later tradition indicates that it was a temple for pleasure, where chiefs of a particular lineage would relax and watch hula. Traditional accounts also indicate that access to the platform's surface was formerly made using a kauila wood ladder that was reserved for the exclusive use of the chiefs.