NO FIREWORKS

Reminder to park visitors. Fireworks are prohibited at Prince William Forest Park.
Oak Ridge Campground Site A29 closure

Oak Ridge Campground site A29 will be closed until safety concerns have been mitigated. Please do not use that site until it has been reopened.
Warm Wet Spring = More Ticks

Please check yourself and your pets for ticks continually during and after your visit. Ticks are less prevelent if you stay on trail or in mowed areas. Wearing light colored clothing helps you spot them before the attach.
Firewood

Outside firewood is prohibited in Prince William Forest Park, unless it is certified USDA 'bug free' firewood. Dead and downed wood may be collected from designated areas for use while in the park. Help us protect the forest from invasive species!
Visitor Center Remodel 2014

Over the next several months there will be new changes coming to the Visitor Center. Presently we are remodeling the bookstore area to give it more of a country theme. Next the exibit area will get all new exhibits. Thank you for your patience and support
Quantico Falls Trail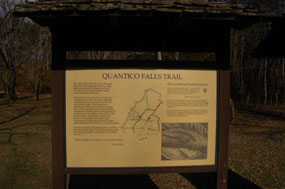 National Park Service
Quantico Falls Trail (0.7 miles; 1.1 km)
The Quantico Falls Trail is a short, easy hike down to Quantico Creek marked with yellow blazes. The trail head is located at parking lot E and there are side-trail options with Lake One Road and North Valley Trail.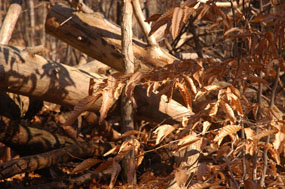 National Park Service
Throughout your hike, you will travel through the open forest. There are many opportunities to see downed logs and snags which provide habitat to many of the park's wild inhabitants.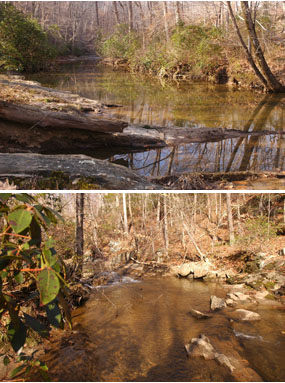 National Park Service
After a short descent and about 15 minutes down the trail, you will come upon Quantico Creek. Here you can see the creek meandering over and through large rocks that cover the stream bed and banks.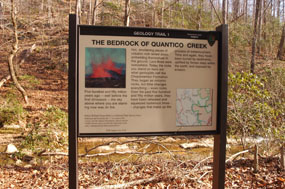 National Park Service
The trail will follow the creek for about 5 minutes. The first Geology Trail Marker can be found on the banks of the Quantico Falls Trail. Here you can learn about the volcanic history of the park.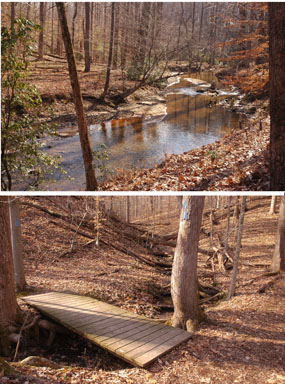 National Park Service
The trail ends at a small foot bridge on the North Valley Trail. From here you can back-track on Quantico Creek Trail to parking lot E, or you can extend your hike onto North Valley Trail.
Did You Know?

Prince William Forest Park was used by the Office of Strategic Services (forerunner to the CIA) as a training camp for spies during World War II. Today, you can rent a cabin where spies once learned their trade.