NO FIREWORKS

Reminder to park visitors. Fireworks are prohibited at Prince William Forest Park.
Oak Ridge Campground Site A29 closure

Oak Ridge Campground site A29 will be closed until safety concerns have been mitigated. Please do not use that site until it has been reopened.
Warm Wet Spring = More Ticks

Please check yourself and your pets for ticks continually during and after your visit. Ticks are less prevelent if you stay on trail or in mowed areas. Wearing light colored clothing helps you spot them before the attach.
Firewood

Outside firewood is prohibited in Prince William Forest Park, unless it is certified USDA 'bug free' firewood. Dead and downed wood may be collected from designated areas for use while in the park. Help us protect the forest from invasive species!
Visitor Center Remodel 2014

Over the next several months there will be new changes coming to the Visitor Center. Presently we are remodeling the bookstore area to give it more of a country theme. Next the exibit area will get all new exhibits. Thank you for your patience and support
Pine Grove Forest Trail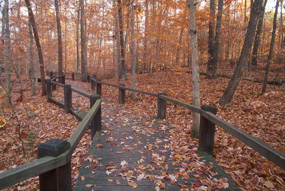 National Park Service
Pine Grove Forest Trail (0.4 miles; 0.6 km)
Pine Grove Forest trail is a short, loop trail that was made with recycled tires. Follow the green blazes over multiple footbridges and boardwalks.
National Park Service
About half way down the trail, you will come upon a platform with benches that are perfect for a short rest. Follow along the loop and you will end up back near the Pine Grove Picnic area.
Did You Know?

Because of its abundance and high sulfur content, Pyrite, also known as "Fool's Gold," was once mined in what is now Prince William Forest Park (1889-1920) to be used in products ranging from light bulbs to soap.