NO FIREWORKS

Reminder to park visitors. Fireworks are prohibited at Prince William Forest Park.
Oak Ridge Campground Site A29 closure

Oak Ridge Campground site A29 will be closed until safety concerns have been mitigated. Please do not use that site until it has been reopened.
Warm Wet Spring = More Ticks

Please check yourself and your pets for ticks continually during and after your visit. Ticks are less prevelent if you stay on trail or in mowed areas. Wearing light colored clothing helps you spot them before the attach.
Firewood

Outside firewood is prohibited in Prince William Forest Park, unless it is certified USDA 'bug free' firewood. Dead and downed wood may be collected from designated areas for use while in the park. Help us protect the forest from invasive species!
Visitor Center Remodel 2014

Over the next several months there will be new changes coming to the Visitor Center. Presently we are remodeling the bookstore area to give it more of a country theme. Next the exibit area will get all new exhibits. Thank you for your patience and support
Oak Ridge Trail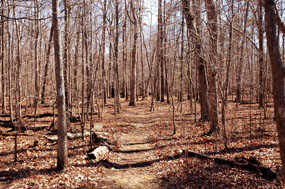 National Park Service
Oak Ridge Trail (1.6 miles; 2.6 km)
Oak Ridge Trail is a short, level trail that starts at Oak Ridge Campground and ends on Old Black Top Road. The trail is marked with yellow blazes and has opportunities to see beaver activity.
At the beginning of the hike you will notice burn marks on most the trees in the forest. This is the result of a 318-acre wildland fire that began near the B-loop of Oak Ridge Campground. The fire began on March 27, 2006 and was finally extinguished on April 4, 2006 due to the efforts of over 70 wildland firefighters. To view the full story refer to park newsletter, The Oasis, Vol. 1 Issue 8.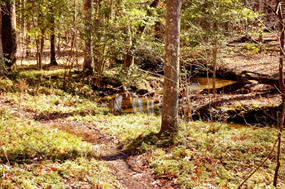 National Park Service
Just down from the campground, South Valley Trail will branch off to the right. After about 15 minutes, you will cross over Scenic Drive. Continue on for another 20 minutes and you will come to a small creek meandering through the forest.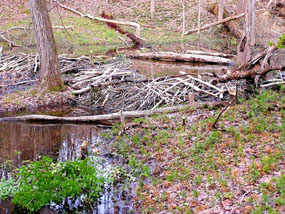 National Park Service
Keep your eye out along the creek for beaver activity. The beaver was extirpated in this area by the late 1700s a result of the fur trade. Reintroduction occurred in the 1950s and populations have flourished.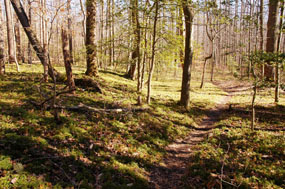 National Park Service
Notice the ground cedar that covers the forest floor. Ground cedar (Lycopodium complanatum) is small, perennial plant with horizontal stems that creep along the forest floor. They grow up to a meter long with flattened, cedar-like stems.
Did You Know?
An owl's eyes are fixed in place because their large size provides no room for muscle. To compensate for this, it can turn its head in almost any direction and angle, including the ability to rotate its head nearly 280 degrees. By comparison, people can only turn their heads a mere 90 degrees!