Firewood

Outside firewood is prohibited in Prince William Forest Park, unless it is certified USDA 'bug free' firewood. Dead and downed wood may be collected from designated areas for use while in the park. Help us protect the forest from invasive species!
Warm Wet Spring = More Ticks

Please check yourself and your pets for ticks continually during and after your visit. Ticks are less prevelent if you stay on trail or in mowed areas. Wearing light colored clothing helps you spot them before the attach.
Temp. Closure C-Loop Bathroom

Due to sequestration cuts, the C-Loop bathroom at Oak Ridge Campground will remain closed. Please use the B-Loop restroom, a short walking distance away. We apologize for the inconvenience.
Crossing Trail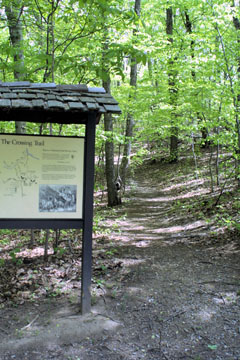 National Park Service
The Crossing Trail (0.5 miles; 0.8 km)
The Crossing Trail is a short, easy hike that starts near Telegraph Pavilion and loops back to the road near the trailhead. Follow the green blazes to remain on the Crossing Trail or connect to the Birch Bluff Trail by following the red blazes.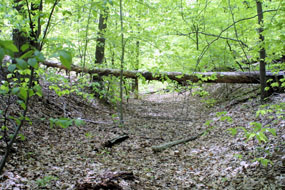 National Park Service
At 0.3 miles along the trail, you will come across a portion of the abandoned Telegraph Road. This road was used by
General George Washington and the comte de Rochambeau
to travel from Rhode Island to Yorktown, VA during the Revolutionary War. In later years, it served as the main north and south thoroughfare for area travelers. This road witnessed the changing of modes of transportation over the centuries - from horseback to stagecoach. Route 1, and later Interstate 95, now take its place.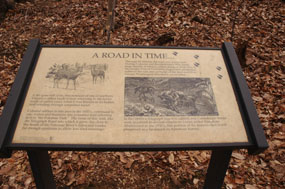 National Park Service
An informational sign can be found where Telegraph Road intersects the Crossing Trail, providing more information on the history of the old road. Efforts are currently underway in the National Park Service to create a Washington-Rochambeau National Historic Trail that would highlight this important route.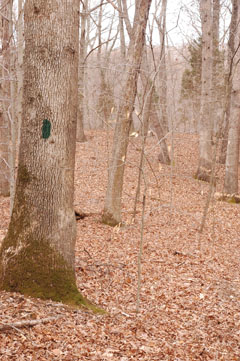 National Park Service
Traveling along this path, you occasionally walk on sediments deposited by ancient seas. Today these deposits form the soils of the Coastal Plain. Along with the terrain, the climate and forest have also changed over the ages. Today's woodland scene of oaks, hickories, and tulip trees was once the setting of swamps, marshes, and cypress trees.
Did You Know?

Prince William Forest Park protects the federally threatened orchid Isotria medeoloides, small whorled pogonia, of which several colonies have been identified in the park.