Visitor Center Remodel 2014

Over the next several months there will be new changes coming to the Visitor Center. Presently we are remodeling the bookstore area to give it more of a country theme. Next the exibit area will get all new exhibits. Thank you for your patience and support
Oak Ridge Campground and Chopawamsic Backcountry Closure

Oak Ridge Campground and Chopawamsic Backcountry area will be closed December 1st, 2013 to February 28th, 2014.
Firewood

Outside firewood is prohibited in Prince William Forest Park, unless it is certified USDA 'bug free' firewood. Dead and downed wood may be collected from designated areas for use while in the park. Help us protect the forest from invasive species!
Chopawamsic Trail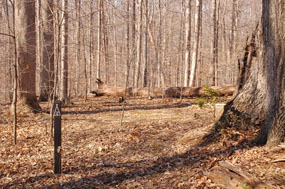 National Park Service
Chopawamsic Trail (2.2 miles; 3.5 km)
Chopawamsic is a moderately-difficult trail located in the Chopawamsic Backcountry. The backcountry also offers rustic campsites. In order to access this area, you must stop by the visitor center between 9:00 a.m. and 5:00 p.m. to obtain a key and permit.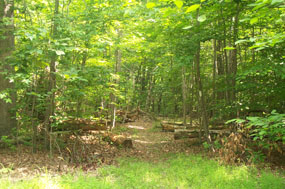 National Park Service
Chopawamsic Trail is blazed with white markings. Along the way you will notice yellow blazed trails. These side trails are for individual campsites and are not marked on the park map.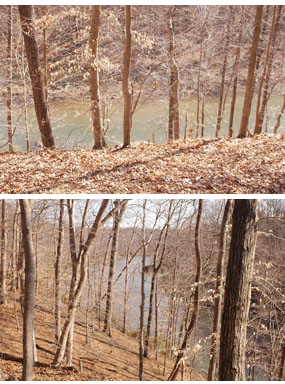 National Park Service
About 25 minutes down the trail, you will come upon a view of Brenkenridge Reservoir and Chopawamsic Creek.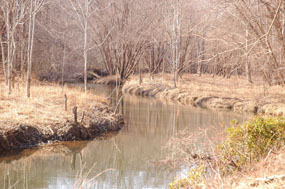 National Park Service
The trail then dips down toward the creek for a few minutes and ascends back up into the woods.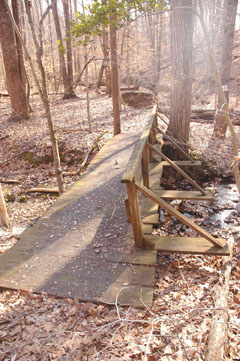 National Park Service
From the creek, it is about 1.5 miles back to the Chopawamsic parking area. Throughout the rest of your hike you will pass over a few tributaries (shown right).
Did You Know?
An owl's eyes are fixed in place because their large size provides no room for muscle. To compensate for this, it can turn its head in almost any direction and angle, including the ability to rotate its head nearly 280 degrees. By comparison, people can only turn their heads a mere 90 degrees!