Photos and Slide Shows
What's the next best thing to visiting Prince William Forest Park? Visit our Photo Gallery for images of Prince William Forest Park yesterday and today. There, you'll find images of scenic spots in the park, as well as historic images from the Civilian Conservation Corps, Office of Strategic Services, and Great Depression-era summer camps. Here's an example of what you'll find in our Photo Gallery.....
Videos and Podcasts
If videos and podcasts is what you're looking for, check out our
Multimedia Presentations
page. There you'll find many historic film clips from the park when it was a spy training area during World War II. You'll also find a 1936 film explaining why the park was created. Here's an example of what you'll find on our
Multimedia Presentations
page.....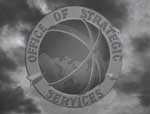 The introductory moments to a film highlighting OSS Basic Military Training at Area A-2 (now Cabin Camp 2). This is one of 4 clips from the 30 minute film.
Virtual Tour
Take a Virtual Tour of our historic cabin camps. You can see 360 degrees inside and outside of some of our cabins. Its a perfect substitute for a site visit if you plan on renting a cabin camp.