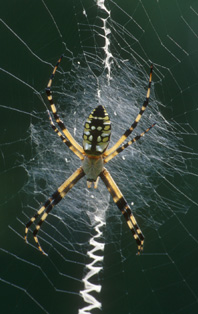 National Park Service.
Spiders are fascinating creatures with truly unique features.
Webs
Many spiders make webs for the purpose of snaring their dinner. The complexity of the web varies depending on the species. Those classic and lovely circular webs are made by the orb weavers a huge group of spiders that are very comfortable setting up house by porch lights, boat docks, and anywhere that flying insects are attracted.
Not all spiders make webs, instead some hunt with an ambush technique. Among these spiders are the large and hairy wolf spiders.