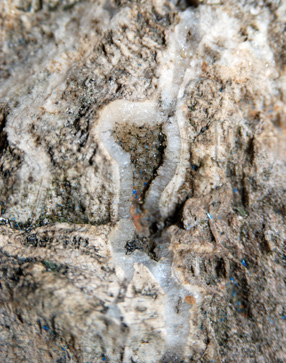 About our petrified tree
Bald cypress is a large, slow-growing but long-lived, deciduous conifer, which frequently reaches 100 to 120 feet in height and 3 to 6 feet in diameter. Its trunk is massive, tapered and buttressed. The leaves are alternate, linear and flat with blades generally spreading around the twig. The bark is thin and fibrous with an interwoven pattern of narrow flat ridges and narrow furrows. Its male and female flowers form slender tassle-like structures near the edge of the branchlets. Bald cypress trees produce cone fruit, and there are approximately 5,200 seeds per pound. It develops a taproot as well as horizontal roots that lie just below the surface and extend 20 to 50 feet before bending down. It develops knees that grow above water providing additional support.
An examination of the base of the large trunk section of the fossil tree easily demonstrates the taproot of the tree, and in the picture to the left a fine layer of quartz has developed within the inner wall of the taproot, which typically has a sort of void within its structure, allowing for the larger crystal formation over time during petrification.