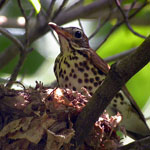 Paula Sullivan
Songbirds
There are so many species of songbirds that can be heard upon entering our forest in the early morning hours that the forest sometimes seems to sing.
First you may be greeted by the loud "teacher-teacher-teacher" of the overnbird or the whistling high-pitched song of the warbler. Many claim that the song of the wood thrush is their favorite. Perhaps the soft "zsee-zsee" and daper coloration of a cedar waxwing eating winter berries will brighten your day.
For more on these sweet sounding birds, visit our songbird page.