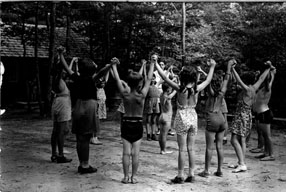 National Archives and Records Admin.
Fulfilling Its Purpose
The final phase of the RDA program began when Cabin Camps 1 and 2 opened in the summer of 1936. Chopawamsic RDA served as a summer camp for Washington, D.C. social agencies through much of the rest of the twentieth century. Most RDAs returned to the states, but Chopawamsic remained under the control of the National Park Service. This was because the park was very valuable to Washington, D.C.'s youth. Chopawamsic became the model RDA because of its importance.
The park kept at its center the recreational needs of the poor of the nation's capital: "Here is a city of 500,000—as important as any on earth, marked by magnificence from Virginia's river flats to Maryland's hills—yet with no provisions for the simple pleasures of improved health of those who need it the most and can afford them the least."