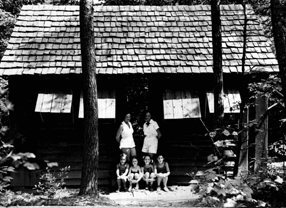 The Historic Cabins:
The Prince William Forest Park cabins were built by the Civilian Conservation Corps during the Great Depression to provide overnight, outdoor recreation for impoverished youth from Washington, DC. During World War II, these same cabins were taken over by the Office of Strategic Services, the WWII predecessor the CIA and America's Special Forces, for use as Special Operations and Communications Training Camps. Though many of these cabins have been on the National Register of Historic Places for many years, the park, in its entirety, was nominated to the National Register of Historic Places this year based in a large part on the cabins' Great Depression and WWII era history.
About the Cabin Roofs:
The cabins were constructed following the tenets of the rustic architecture movement which was very popular in the early 20th century. This movement used locally-harvested materials to achieve a naturalist, pioneer-made look, despite the use of machines for some construction. For the cabin roofs at Prince William Forest Park, the CCC used hand-made, cedar shake shingles on all of the buildings. You can view a Works Progress Administration worker hand-making these shingles in the early park film, The Human Crop.