CAUTION: Post Storm Damage to Coastal Trail

The Presidio Coastal Trail segment just north of the Pacific Overlook and adjacent to Lincoln Blvd remains CLOSED indefinitely. We have posted signage to alert bicyclists and hikers and with information for safe trail alternatives. More »
Public Transportation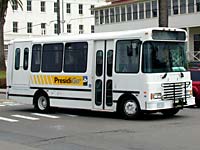 Public Transportation
San Francisco Municipal Railway (MUNI) buses serve the Presidio via the 28 (to Golden Gate Plaza), 29 (from Sunset to Baker Beach), and 43 (to Letterman area) lines and other lines terminate near the Presidio's Lombard Gate.

The Presidio Trust provides free PresidioGo shuttle service within the Presidio and to nearby public transit stops. Visitors can also ride the shuttle between downtown San Francisco and the Presidio on weekdays between 9:30 a.m. and 4:00 p.m.


Did You Know?
Enlisted men in the Buffalo Soldier regiments were paid thirteen dollars a month plus room, board, and uniform. The enlistment period was five years.