Public Transportation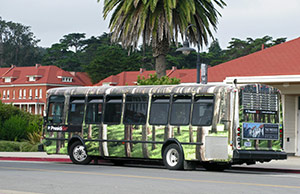 Public Transportation
San Francisco Municipal Railway (MUNI) buses serve the Presidio via the 28 (to Golden Gate Plaza), 29 (from Sunset to Baker Beach), and 43 (to Letterman area) lines and other lines terminate near the Presidio's Lombard Gate.

The Presidio Trust provides free PresidioGo shuttle service within the Presidio and to nearby public transit stops. Visitors can also ride the Downtown Express shuttle back and forth between downtown San Francisco and the Presidio on weekdays between 9:30 a.m. and 4:00 p.m. and on weekends between 10:00 a.m. and 7:30 p.m.


Did You Know?

A young Jerry Garcia was stationed at the Presidio during his brief service in the U.S. Army. Over the course of his nine-month career, Garcia went AWOL eight times and received two court-martials.