Public Health Service Hospital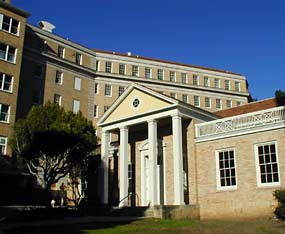 Built in 1875 and originally called the U.S. Marine Hospital, the Public Health Service Hospital initially tended the needs of merchant seamen. Eventually the hospital also cared for members of the U.S. Coast Guard and other governmental agencies, Native Americans and Vietnam refugees. In addition, important research on plague diseases was conducted here. A new hospital replaced the old in 1932, and two wings were added in the 1950s. After the hospital's closure in 1981, the Military Language Institute used part of the facility from 1982 to 1988.
Did You Know?
During 1941 and 1942, Japanese-American language specialists were trained at the Military Intelligence Service Language School at Crissy Field.