Julius Kahn Playground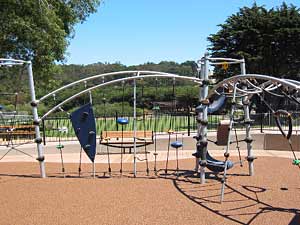 Operated by the City of San Francisco, Julius Kahn Park is tucked along the southern border of the Presidio. Serving the military community and families from neighboring districts since its establishment in 1923, this park provides newly revitalized playgrounds and ballfields to the general public.
Did You Know?
Colonel Albert Sidney Johnston, commander of the Pacific branch of the army, prepared the defenses of the San Francisco Bay and ordered the first garrison of Fort Point. Kentucky-born Johnston then resigned his commission to join the Confederate Army; he was killed at the battle of Shiloh in 1862.